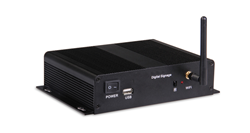 (PRWEB) June 14, 2014
Recently, Digital-Signage-China.com, a professional China digital signage supplier, has announced its latest assortment of DSP-100E Digital Signage Players. The company made the decision to create this collection in the hope of expanding its online market in a short period of time.
As a matter of fact, the reliable supplier has won thousands of happy clients in the global market. At present, its top designers are working hard to make more practical digital signage products for old and new customers. It is worthy to mention that all its new DSP-100E Digital Signage Players are now provided at discounted prices, up to 26% off. The promotion will end on June 21, 2014.
As part of its comprehensive digital signage solution, Digital-Signage-China.com has updated its website with the detailed information about the cheap brand new DSP-100E Digital Signage Players. Its aim is to make its website a perfect place for worldwide distributors to get affordable items.
"We are happy to provide the new selection of cheap DSP-100E Digital Signage Players. Each of them is attentively made by our skilled workers. You know, all our members have experience in the industry. The new collection comes in over 10 different specifications. I sincerely hope all of you like our fresh players," the company's marketing specialist says.
About Digital-Signage-China.com
Digital-Signage-China.com is a well-known digital signage technology company with the eligibility of production, installation and maintenance of digital signage products. The company has much experience in the industry, and its customers are provided with the best resources and professional tips. It aims to offer all kinds of high end digital signage products for the global market.
For more information about the business and its digital players, visit http://www.digital-signage-china.com/.