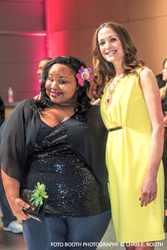 "... Whether simple and elegant, as for a bride, or colorful and expressive for everyday wear…THAIS FLOWERS give me great joy." –Lisa Petty, DFW Style Daily
Dallas, Texas (PRWEB) June 19, 2014
The latest accessory craze points towards Thais Flowers. Thais Flowers are handmade couture flowers with signature leather backs that are designed to be worn in hair, clipped on shoes and clothes. Named after creator, Thais Mills (pronounced Ty-eece) each flower is crafted with a story to tell.
Each flower in the collection bares a signature fairytale like story to describe its color flower choice. It is Thais's own story that is so full of color and surprise. As a successful painter, poet and columnist Thais found her passion and purpose at the tender age of 15 years old. Thais was asked to moonlight as an Art Instructor to a group of 5 year olds after teaching a creative Writing Class in New Orleans, Louisiana, and developed into a highly sought after artist whose works can be found in the home of Kimora Lee Simmons, Robert Greene, and Robin Roberts. When Hurricane Katrina demolished her family home of over 23 years, all was destroyed but her handwritten poems in journals that she was able to save before evacuating. She started LipServiceInk, a Literacy Magazine, with no start up money and no contacts from her family's hotel room in Houston, Texas months after Katrina. She says she could not find a job to promote books while having fun so she created one. Then she thought "Hair" and thought her hand-made, hand-painted, scented and signed hair flowers were a way for her art to travel the world.
Thais Flowers have been seen in the hands and hair of Dia Wall, Kelley Price, Erykah Badu, Carols Daughter Lisa Price, with notable photographers, models and in the hair of the Guinness World Records Largest Afro Aevin Dugas. Thais Flowers have even made their way to the Stellar Awards. Thais first runway show was earlier this year in Houston, Texas at the Big Girls Rock fashion show. Thais recently competed in AIN: Accessories in the Nude the largest competition of its kind exclusively for accessory designers where her designs were judged by some of the fashions industry's leading experts in Dallas, Texas. Soon after Thais was contacted by Gwen Devoe creator and founder of Full Figured Fashion Week and a bulk order of Thais Flowers were ordered by the Fashion Powerhouse herself.
Connect and learn more about Thais Flowers and when the next "Tree Trunk Show / Box Signing " will be coming to a city near you at http://www.thaisflowers.com For private interviews and more information concerning Thais Mills please contact Rachael Yvonne Davis at info(at)UnitedEntInc(dot)com