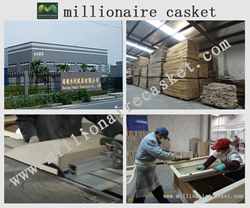 (PRWEB) June 14, 2014
MillionaireCasket.com, one of the most popular casket manufacturers in the global market, has released its new collection of ash caskets for worldwide distributors. Also, the supplier has announced an ash casket promotion. Now, all its brand new items come with a discounted price, up to 30% off. The big promotion will end on June 27, 2014.
MillionaireCasket.com's products sell well in the current market, especially in the United States and Europe. The company's marketing specialist indicates that all its products have gone through the verification process. The company strives to offer the best products for its old and new clients.
The new range of ash caskets consist of more than 20 designs. They are offered in many different thicknesses and weight. On the company's website OEM orders are also provided. The company provides a great selection of the high quality caskets, church trucks, embalming tables, church furniture, stretchers, keepsakes and more.
"We are happy to launch the special offer on our high quality ash caskets. All these items are resistant to rust and corrosion. We are working hard to offer more great wood caskets for old and new customers. We have been in the funeral industry for decades. Customers can find a lot of affordable items on our website," the company's chief executive officer states.
About MillionaireCasket.com
MillionaireCasket.com is a leading casket company that focuses on the business of casket wholesale. This company offers an exquisitely crafted line of all kinds of metal caskets, ash caskets, veneer caskets, cremation caskets, rental caskets, orthodox caskets, infant or over-sized caskets and European style coffins. The standard quality control policy is strictly applied here, and a third party quality assurance is also available.
More information can be found at http://www.millionairecasket.com/71-ash-caskets.