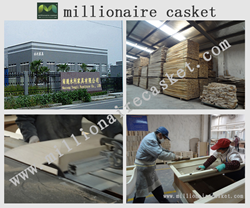 (PRWEB) June 15, 2014
Recently, MillionaireCasket.com, a professional casket supplier from China, has unveiled its new selection of walnut caskets. Moreover, the firm has launched a special offer for all these wood caskets. Any order of 6 caskets or more can get a special discount, up to 30% off. The promotion will be valid until the end of June.
The company's sales manager says, "We are pleased to announce our new designs of walnut caskets and launch the promotion. All our cheap products are carefully treated to resist rust and corrosion. They are 100% manufactured with natural woods. What's more, each of them comes with a special locking system. Please note that the special offer will last from today until June 30. Customers who are looking for discounted walnut caskets should visit our website now."
In fact, MillionaireCasket.com has over 10 years of experience in the casket industry. The company pays close attention to online services. It is offering more than 80 different kinds of top quality caskets for customers from around the world.
Additionally, the company hopes to be an excellent funeral supplier. It has invested a lot of money in the latest technology in casket making. Besides great wood caskets, it also provides church trucks, stretchers, urns, embalming tables, church furniture, keepsakes and other related products.
About MillionaireCasket.com
MillionaireCasket.com is a leading casket company that focuses on the business of casket wholesale. This company offers an exquisitely crafted line of all kinds of metal caskets, solid wood caskets, veneer caskets, cremation caskets, rental caskets, orthodox caskets, infant or over-sized caskets and European style coffins. The standard quality control policy is strictly applied here, and a third party quality assurance is also available.
More information can be found at http://www.millionairecasket.com/72-walnut-caskets.