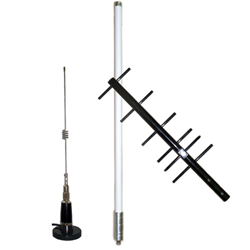 (PRWEB) June 14, 2014
Recently, ZDA Communications, a popular UHF antenna manufacturer and supplier, has updated its website with its 700 MHz Yagi antenna collection. According to the CTO of the company, the new antennas are specially designed for directional applications, as well as Point to Multipoint applications. They are ideally suited for 700MHz WIMAX and public safety band.
Yagi antenna is a directional system. The new 700 MHz Yagi antennas from ZDA Communications are constructed of 6061-T6 Aluminum for outstanding service life. These antennas come with high gain and good front to back performance, so that they can minimize external interference greatly.
The website of ZDA Communications (ZDAcomm.com) now features the latest UHF antennas for all clients worldwide. Along with the new 700 MHz Yagi antennas, ZDA's hot-selling models include 2.4 GHz grid Parabolic dish antenna series, 902-928 MHz Yagi antenna series, 2.6 GHz Parabolic dish antenna series, 700 MHz Yagi antennas and more. These introduced models can operate perfectly and enhance the communication effect in the desired places.
"We are so happy to introduce our new models to the clients around the globe. Our new Yagi antennas are ideally suited for providing and improving reception in workshops, small-sized parking garages, residential homes, basements, small office areas, and other places where the wireless signal is weak," the spokesman for the company states. "Customer satisfaction is what we completely expected, and we will do everything we can do to provide premium quality products for our clients."
About ZDA Communications
ZDA Communications US LLC is a leading manufacturer and supplier of all kinds of wireless antennas, including Yagi antennas, Parabolic dish antennas, cell tower sector antennas, External wireless antennas, mobile antennas, Broadband and Ultra Wide Band Antennas. For more details of the company and its products, please visit http://www.zdacomm.com/.