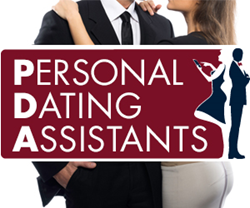 Instead of handling your business affairs, a PDA manages every aspect of your dating life.
New York, NY (PRWEB) June 16, 2014
The recent launch of Personal Dating Assistants has proved that when it comes to professional dating services, convenience is king.
The new company reports that since its recent launch, membership has been predominantly successful 25-45 year old males, living in major metropolitan cities, and earning over $75k per year.
Online dating expert & founder Matthew Valentines claims the service was started in response to a growing desire for greater convenience in the online dating services marketplace:
"Outsourcing is nothing new. For a professional single man, the concept of hiring an online dating consultant or assistant is as natural as hiring a secretary, office manager, or even virtual assistant. But instead of handling your business affairs, a PDA manages every aspect of your dating life."
Demographic data provided by the company suggests that demand for a professional dating expert is strongest in New York, Los Angeles, and Chicago.
"While big cities offer the most dating options, they also have the most competition. For guys competing in the business world full time, there aren't enough hours in the day to also be competing for the best women. Guys who outsource their online dating have an advantage."
Valentines goes on to explain:
"Single men who embrace our new reality have more dating options today than we've had in the history of mankind. And if you're living in New York, London or Moscow, you can literally go on a date with a new woman every night of the week...if you know what you're doing."
The market for an online dating expert is not new. More traditional dating services such as matchmaking, and date coaches fulfill a similar need, but Valentines claims that men who outsource their online dating tend to be a more progressive segment:
"Our members are early adopters. Like us, they embrace technology, and are interested in new ways of doing things. Knowing what to write in your online dating profile and messages is both an art, and a science. Guys who are adaptable, and open to new ways of doing things have a great shot at finding love & relationships."
Men who are actively using the new service describe themselves as comfortable delegating time consuming, repetitive, or difficult tasks. Valentines claims that the typical role on an assistant, and dating expert, were a natural fit for joining together in the new venture.
Personal Dating Assistants is a full service online dating solution for men. Those looking for more information may contact Personal Dating Assistants directly, or visit the Online Dating Tips section of the website.