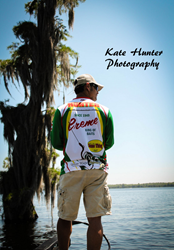 Nothing in the world is greater than sharing knowledge.
Yankton, South Dakota (PRWEB) June 16, 2014
Hunter found out about the Exposed series through one of his current sponsors, started watching the videos, and was impressed with what he saw from the pros. According to Hunter, the lessons taught in the video series were the same sorts of lessons he picked up from his father-in-law and other seasoned anglers as he was learning the sport.
Hunter tells ProPatterns that "nothing in the world is greater than sharing knowledge." He recalls an old-timer telling him once, "When the cows lay down in the field, the fish aren't biting." He went fishing one day and noticed the cows lying in the field. "I didn't get a bite all day," he said. "When I was heading home, I noticed those cows had gotten up, so I turned around and threw in a line, and sure enough, the fish were biting." Hunter explains that, like many old-timers, he relies on Mother Nature to guide him, adding "Fishing resembles the sport of bull riding in a lot of ways. You can learn something on every cast, just as you can learn something on every ride."
Hunter retired from professional bull riding at the age of twenty-eight and began getting serious about professional angling this past year. During his bull-riding career, Hunter's success also came with great injury. At one point, he fractured 32 bones in his back, but developed an aquatic therapy routine, and returned to compete in Fort Worth, where he took home the Buckle.
Since shifting his focus to competitive fishing, Hunter has developed his own lure, the Swannee Shaker, for Creme Lures, photographed for Urban Water Apparel, and picked up several other sponsors along the way. Hunter tells ProPatterns that his biggest success at tournament happened only two weeks ago. With only a half hour before weigh-ins, Hunter had nothing in the boat, but snatched up the victory with one solid hit. The lesson, he tells ProPatterns, is "…don't' give up in life because there's always a possibility. The day may be going bad, but everything can change in a minute."
When asked about what he hopes to achieve in the world of professional fishing, Hunter took pause and told ProPatterns, "My goal in life is to make people happy. If I can take thirty seconds out of my day to make somebody's day better, then I've succeeded."
Hunter recounts a turning point for him that helped him develop this outlook on life. When he was hospitalized several years ago and at a low point, his nurse discovered he had a passion for fishing. "The nurse's name," he says, "was Amy Grigsby." The next day Amy brought in a personally autographed book written by her father, titled Bass Master." Her father was Elite legend and Exposed pro Shaw Grigsby. That gesture has informed how Hunter has pursued his goals, not only giving 110% percent, but also giving back. "Any time you give," he tells ProPatterns, "it always comes back around."
The Exposed Eligible? film contest runs through August and is open to amateur anglers of all experience levels. Winners of the contest will spend a day filming on the water with Exposed pro Timmy Horton, a prize package worth $5000. For more information on Exposed, Exposed Eligible? and ProPatterns please visit http://www.propatterns.com.
More About ProPatterns, Inc. and Exposed:
ProPatterns, Inc. is a leader of angling education by sharing professional fishing tips, industry information and member services online. In addition, ProPatterns offers prize filled competitions, sharing of information among peers, and connections to industry professionals and media through means available nowhere else.
Information is gathered from various sources and disseminated with members in a variety of ways. The Exposed video series, for example, gains all of its integrity from an alignment with the biggest names in the bass fishing industry including professionals who fish with BASS, FLW, and PAA. Cooperation from the anglers and their willingness to share is the catalyst for the growth of this series.
For #exposedeligible contest information and rules, the Exposed video series, and all other ProPatterns offerings, and to become an ELITE or Social ProPatterns member, please visit http://www.ProPatterns.com.