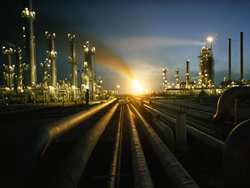 Black Diamond is producing Black Gold for its partners and shareholders.
Seychelles (PRWEB) June 14, 2014
Black Diamond's lead investors are excited about the returns from refining crude oil to motor fuel as it brings in huge upside profits. Rezhwan has a strategic location with a long-term supply of crude oil that give them 100% security in their rapidly growing partnership. Moreover Erbil Kurdistan and its refining projects represents huge investment opportunities for BDDEC partners.
Black Diamond partners along with its Kurdish partners Rezhwan are now converting oil into petroleum products that meet the needs of consumers for immediate sales of diesel and gasoline. The Refining of the discounted crude oil which is purchased by the ton consists of a series of successive operations to separate and process mixtures of various crude's, resulting in products with standard characteristics that can be sold globally.
The calculation for crude oil to motor fuel refining by the ton is fantastic and very profitable for the partners and shareholders who own shares in the Black Diamond Development and Exploration limited partnership.
The global demand for refined petroleum products into motor fuel is robust because of the tight capacity worldwide. Today with elevated utilization rates and pushed margins to historic highs, refinery utilization rates are forecast to exceed 86% by 2015 with demand at 93 million bpd and set to double by 2030.
Black Diamond is planning a series of expansions and upgrades to its existing refineries. Further private refining projects are also under consideration. Together, these projects will offer very substantial investment opportunities and the capability of increasing the income to its partners and shareholders.
Unlike many refineries, these new refineries and facilities located outside the United States will offer large-scale capacity to process local heavy and sour crude in the Middle East. The latest technologies will be used to mitigate their environmental impact relative to older facilities elsewhere in the world.
The partners and owners of Black Diamond Seychelles will benefit from the partnership with Rezhwan while using a proven world-class infrastructure and its ability to refine local crude oil products from locations with in its country and the Middle East.
Recognizably Black Diamond development and exploration United Kingdom has a smart management team in place, not to mention good banking relationships in the Middle East, thus making the exchange of one currency to the other extremely liquid when selling newly refined Motor fuel.
New shareholders are quick to invest in Black Diamonds international refinery projects because of the tremendous liquidity and the high percentage return.
It was agreed that Black Diamond Seychelles and its partners would receive 75% for the cash injections into Middle East joint ventures while Rezhwan would receive 25% for the deployment and expansion into these different projects.
Black Diamond is taking a conservative approach that will help fund the company's commitment to spending $100 million in 2014 in capital projects. Management's goal is to add these new projects and deliver a dividend payout ratio at a reasonable 45% through prudent management and earnings growth.
The refinery project is expected to make use of Middle East oil and gas resources that will contribute to create long lasting value to Black Diamond investor partners and shareholders. The management team and its joint venture partner's have significant experience in energy development and the day-to-day operational requirements of a driller/operator, refineries as well as a long and successful relationship with the financial community.
Ronald Flynn said, "We are putting more money to work in the Middle East and abroad in 2014, as part of our development plan to maximize our profits by locking up joint ventures that pay great dividends with very low risk."
The oil and gas sector investment opportunities in the Middle East will continue to rise over the next five years, Finance Minister and Minister in charge of Oil and Gas Affairs Shaikh Ahmed bin Mohammed Al Khalifa has said.
Trade Arabia Business news information June 14, 2014.
http://www.tradearabia.com/news/OGN_258384.html
Speaking during the opening session of Pet Rotech 2014 at the Ritz-Carlton Bahrain, Hotel and Spa yesterday, Shaikh Ahmed said the petrochemical industry was the second largest manufacturing sector in the Gulf region, as a result of the abundance of natural gas and huge opportunities were being created due to joint investment projects in the GCC, reported the Gulf Daily News, our sister publication.
According to Rudwaw international news and business in Erbil Kurdistan.
ERBIL, Kurdistan Region – Overseas investments in the Kurdistan Region have topped $39 billion, and an investments law is being amended to make it more attractive to foreign investors, the head of the Kurdistan Investment Board said.
RUDAW 19/5/2014
http://rudaw.net/english/business/19052014
Black Diamond Oil Co. strategy is to cash flow internationally oil and refinery projects thus delivering giant revenue for their partners, Black Diamond Development and Exploration Co ltd. Seychelles, who fund these companies, will follow a more conservative approach as there investors require a more dependable income stream preferably with the potential for growth.
This press release contains forward-looking information within the meaning of Section 27A of the Securities Act of the 1933 and Section 21E of the Securities Exchange Act of 1934, and is subject to the safe harbor created by those sections.