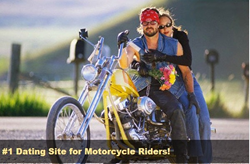 Los Angeles, California (PRWEB) June 15, 2014
Based on a few statistics which were pulled from the site and its users, world's largest biker dating community, Bikerkiss.com, managed to create a chart for the first time, which reveals what occupations most biker singles who are looking to date actually have.
This way, it was revealed that the site has 14.8% members who are self-employed or entrepreneurs working on achieving their dreams while also following their passion for biking. It is thought that the number is so high due to the fact that entrepreneurs are usually a lot more flexible when it comes down to organizing and allocating their time for biking. This fact allows them to ride their motorcycles whenever they feel like they should as entrepreneurs lack work hours and generally have a lot more freedom comparing to others.
People who have occupations in the fields of technology, science or engineering constitute 12.6% of the members of BikerKiss.com. As people in these categories generally know more about engines and motorcycles, they also have a better understanding of it. This represents the amazing way on how their passion can link together with their field of work in order to create a class of people who love riding motorcycles.
The third highest category of users on the famous biker dating community is represented by people who usually work with construction. Their percent sums up to 8.7% of the members on the site. The reason behind this may be the fact that they usually spend more time with motorcycles comparing with other classes of people. This can make it easier for them to cultivate a long-lasting relationship with their motorcycles, while others also try to understand how the system works.
Other occupations which took an important place in the top 10 chart made by bikerkiss.com include people working in the medical, management and transportation fields. While people all around the world love motorcycles, a real community of bikers has stood out. This can help them form a better understanding of themselves, while they can also learn more about motorcycles and cultivate their passion for riding.