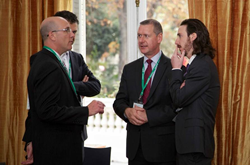 There is no need for any medical intervention, the teeth fall out naturally, just as nature intended.
(PRWEB UK) 17 June 2014
It's five years since Mexico started to offer the potentially life-saving service of personalised stem cell banking to its 117 million people; Mexico being the 11th most populated country in the world.
The take-up of private autologous (one's own cells for one's own use) stem cell banking in Mexico has been on a rapid increase since it was launched in the country by BioEden in 2009. Some have been surprised by the take -up, but Group CEO Tony Veverka was not at all surprised. "The Mexican people are very family orientated, and the well-being of future generations is in their nature, wanting to do the very best that they can for them."
The Mexican operation is led by Victor Saadia, son of one of Mexico's eminent dental surgeons, who launched the BioEden service back in 2009.
The BioEden service is supported by dentists worldwide, although as BioEden are quick to point out, there is no need for any dental intervention, as the baby teeth fall out all by themselves, just as nature intended.