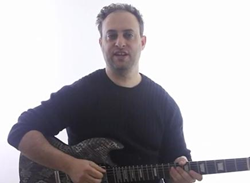 (PRWEB) June 15, 2014
"This is a great three chord progression for beginners," says Johnson. Claude starts off this guitar lesson by explaining what chords are used in the song. For the verse, he says, the chords are Em, D, and C. "I'm not going to waste the time by going over how to play the chords and bore you if you already know them," says Johnson. Claude demonstrates the strumming as all down strokes played as 1/8th notes for Em (1-&-2-&-3-&-4-&), using the palm muting technique; and for D (1-2-&) and C, he strums it down down up (3-4-&). Claude continues by performing it slowly so you can easily follow along with it. Next, Claude goes over the chorus and the turnaround which use the additional chords G and A as well as a short walk down riff. Complete guitar tabs are available for this easy beginner guitar lesson at GuitarControl.com.
Neil Young is a Canadian-born singer and songwriter. He is best known for being the "fourth member" of Crosby, Stills, and Nash and the founder of Buffalo Springfield. Young has played on 39 albums and has been awarded two Grammy Awards, three Juno Awards, and was inducted into the Rock and Roll Hall of Fame twice as a solo artist and for Buffalo Springfield.
Claude Johnson
Claude Johnson, a native of Philadelphia PA, began playing guitar in 1990 after being inspired by players like Jimi Hendrix, Eric Clapton, and Stevie Ray Vaughn. He is the creator of GuitarControl.com and has helped 1000s of people to learn to play the guitar with his critically acclaimed instructional DVD courses, all available at GuitarControl.com.
About GuitarControl.com
GuitarControl.com is the leader in modern guitar instruction. It's packed with resources including articles, video lessons, and the best videos in the business for the beginner to the advanced guitar student taught by the best instructors out there. Weather you are into the blues, rock, jazz, metal, folk, or anything in between, they have you covered.