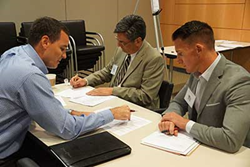 San Diego, CA (PRWEB) June 15, 2014
For the past two years, the GI Go Fund has worked together with Johnson & Johnson to create a unique career workshop concept, where veterans and military supporters who were employed at the pharmaceutical giant and other Fortune 100 companies would work with unemployed veterans to develop their resumes and improve their overall employment skills in a one-on-one atmosphere at their corporate headquarters. The partnership led to multiple Military Career Workshops hosted in the New York/New Jersey region, with over 400 veterans getting the help they needed to improve their hiring prospects.
Now, the collaboration has become a success story from coast to coast.
The two groups hosted their latest Military Career Workshop at the Janssen Research and Development Lab in San Diego, CA, where dozens of former military personnel met with fellow veterans who have been hired at prestigious positions at the company to improve their skills and find out what it takes to work for one of the largest companies in the world.
Many veterans who attended the event were appreciative of the support that they were receiving, and were glad to have the services come to them. The San Diego area veterans learned about the success of the past workshops, and were glad to speak one on one with high level corporate leaders and fellow veterans who knew both how to transition back home and how to make it in the corporate world.
Previous workshops have also received strong praise from veterans, who commend the value of the advice that came from the volunteers. At the last Workshop at Johnson & Johnson's worldwide headquarters in New Brunswick, NJ, company CEO and former Army Ranger Alex Gorsky shared his experiences with the veterans on hand and offered advice and assistance to the men and women in need of employment.
"I am so proud of the growth of this event," said GI Go Fund Executive Director Jack Fanous. "What makes this event so great is the simple truth that it is veterans helping veterans. It gives unemployed veterans the opportunity to not only improve their job searching skills, but work with someone who has gone through the same unemployment experiences as them. We have enjoyed great success with our events in the New York/New Jersey region, but now we're extremely thrilled that the veterans in San Diego and throughout the Southern California region, which makes up such a large portion of our country's veteran population, are able to benefit from the program as well."
Recent unemployment reports from the Bureau of Labor Statistics show that Post 9/11 era veterans are currently suffering from an unemployment rate of 6.8%, which exceeds the national average and is causing significant struggles for returning military veterans and their families.