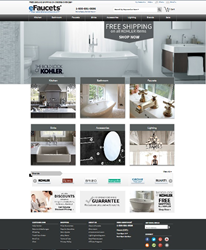 This means that our consumers expect a certain high-end shopping experience.
Racine, WI (PRWEB) June 16, 2014
eFaucets.com, a leading online retailer of Faucets, Sinks, Fixtures and Accessories for the Kitchen and Bath, announced today the unveiling of their redesigned website. The project has spanned 12 months starting with more than 200 interior brand and category pages to now a revamped home page and responsive navigation header and theme.
After communicating with customers, surveying web users, analyzing customer demographics, eFaucets.com realized it needed to transition the website to match the user experience expected by today's customer. "By surveying our customer database, we learned that 58% were Female and 48% had household incomes over $100,000," said Michael J. Fox, COO. "This means that our consumers expect a certain high-end shopping experience." Merging Fashion and Web Design creates a unique customer experience for the savvy home enthusiast.
Long gone are the online shopping catalogs where retailers are just selling products. Customer's expectations have increased in the online marketplace and retailers must adapt. Consumers are expecting a showroom experience where they are inspired for their kitchen and bath project. They want stylish and elegant ideas for their home, featuring high definition room shots, multiple angles and videos. The new website will include inspiration galleries, learning center, a how-to-section, and installation guides.
"It's exciting to see the website evolve over the past 11 years, but this will be a major shift in our Fundamental Design and use of Responsive styling," said Nick Fox Founder and CTO, "with more additions to come for Mobile and Tablet shoppers we know that the site will offer our customers an exceptional online experience with our shoppers."
About eFaucets.com
Established in 2003, eFaucets.com and its parent, eImprovement.com, LLC, have quickly become the leading destination of faucets, sinks, fixtures and accessories for the kitchen and bath. For savvy and sophisticated home enthusiasts, eFaucets is the simple kitchen/bath remodeling solution that delivers inspiration, education, and quality because only eFaucets is passionate about exceptional customer experiences. Top brands include Kohler, Delta, Moen, and Grohe. eImprovement is headquartered in Racine, WI with distribution centers nationwide along with a brick and mortar showroom business. For further information, visit eFaucets.com.