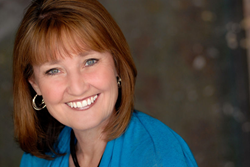 I learned long ago never to dash anyone's hopes and dreams by saying, "Be careful you don't…" Now I am more likely to say, "Just dream it. Just live it. Just do it."
San Jose, CA (PRWEB) July 29, 2014
Selling can be a tough business. Low spirits and self-doubts can hinder success in sales, so its important for sellers to keep their chins up.
That's why, on August 2nd, MK Mueller will be appearing on CONNECT! Online Radio for Professional Sellers. Mueller is an award-winning expert on positive thinking and an internationally recognized speaker and author. She will share with listeners her "8 to Great Success Process," a globally recognized methodology, in order to encourage them to excel in sales and feel good about it, too.
Your program host, Deb Calvert, will conduct the interview with Mueller, incorporating questions submitted beforehand and live by listeners. The CONNECT! Online Radio Show for Selling Professionals is dedicated to helping sellers connect with buyers so they can cut out continuances, put an end to pending and stop stalling out.
To submit questions for Mueller and Calvert before the live broadcast, send an e-mail to deb.calvert(at)peoplefirstps(dot)com. To join the live broadcast where listeners can submit live-time chat questions or call in to appear live on air, go to the show's website.
An archived version of this program will be available after it airs at the iTunes Store CONNECT1 or at the website listed above.
CONNECT! Online Radio for Selling Professionals is sponsored by People First Productivity Solutions, a sales training firm dedicated to building organizational strength by putting people first. Deb Calvert, founder and president of PFPS, formed the CONNECT! Community to support sellers at all stages of their selling careers.