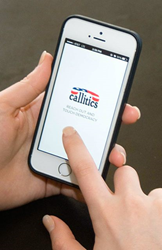 Viral calls will be sweeping around the internet reminding people to call and donate.
Peoria, IL (PRWEB) June 17, 2014
New smartphone app Callitics allows its users to make viral calls on public issues. It has changed the game in lobbying Congress, or any public office. Now, the free smartphone app is going further. All telethons can use the app to direct calls to their donor lines.
"It seemed like the perfect way to give back," says co-founder Henry Getz. The Callitics app creates viral calls on public issues. The donor lines qualify as one of those public lines. The app makes links that can be shared across the internet.
"By opening up social media to these links so many more donations to great causes could result," says Tom Howard, co-founder of Callitics. While most calls on the app are about legislative change, he explained that the app really is about making viral calls on any public issue that should be made.
"Lots of people our age don't watch TV anymore, but they are always on their cell phones. By putting this link in front of where they are, they can easily call into the telethon and donate," says Getz. He explained how any call can be created in less than five minutes.
"But we are giving the technology away to telethons," says Howard. The app current charges for its viral calls, but those rates are lower than the average cell phone minute.