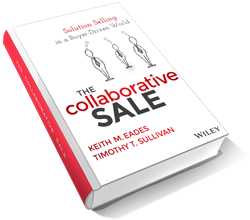 Buyer behavior has changed the marketplace, and sellers must adapt to survive.
San Jose, CA (PRWEB) August 12, 2014
Selling has changed. Buyers have changed. Isn't it time that sales professionals changed, too?
Listeners can tune in to CONNECT! Online Radio Show for Professional Sellers this Saturday at 9:00 am PDT to learn how to do just that as Deb Calvert interviews authors of "The Collaborative Sale," Keith Eades & Timothy Sullivan. Eades & Sullivan are two of the foremost experts on Solution Selling and will discuss on-air the history of Solution Selling and inform listeners of what they need to chart out ASAP. The show promises to create the "definitive blueprint" for sellers on what changes they need to make, how to make them, and why it's so important to adapt to the changes currently going on in the sales world.
Your program host, Deb Calvert, will conduct the interview with Eades and Sullivan, incorporating questions submitted beforehand and live by listeners. The CONNECT! Online Radio Show for Selling Professionals is dedicated to helping sellers connect with buyers so they can cut out continuances, put an end to pending and stop stalling out.
To submit questions for these guests and Calvert before the live broadcast, listeners can send an e-mail to deb.calvert(at)peoplefirstps(dot)com. To join the live broadcast and submit chat questions or call in directly, listeners are invited to go to the show's website.
An archived version of this program will be available after it airs at the iTunes Store CONNECT1 or at the website listed above.
CONNECT! Online Radio for Selling Professionals is sponsored by People First Productivity Solutions, a sales training firm dedicated to building organizational strength by putting people first. Deb Calvert, founder and president of PFPS, formed the CONNECT! Community to support sellers at all stages of their selling careers.