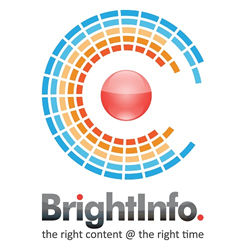 "Adding BrightInfo to our WordPress CMS was seamless and easy," said Alon Maimoni, CMO at FortyCloud. "It immediately provided a 76% jump in leads"
Tel Aviv (PRWEB) June 16, 2014
BrightInfo today launched its new BrightInfo for WordPress plugin, an easy way to install and activate BrightInfo on WordPress websites or blogs – from within the WordPress environment.
BrightInfo's cloud solution has been proven to increase online leads by up to 80% while dramatically reducing the cost per lead for businesses of all sizes. The technology delivers personalized content recommendations for anonymous online visitors. Leveraging existing online marketing materials, BrightInfo dynamically delivers relevant content recommendations to each anonymous visitor based on digital behaviors, pages read and stage in the buying journey. With optimized solutions for corporate websites, blogs and landing pages, recommendations are made at key entry points into the site and advance visitors through the buyer journey toward becoming customers or leads.
Up and running in minutes, BrightInfo requires virtually no manual effort and no changes to website content, tagging or organization. The BrightInfo recommendation engine automatically and continually indexes content and determines which content is most effective in engaging and converting visitors. Built-in reports and analytics provide insights about visitor interests and metrics to validate BrightInfo's performance.
"Adding BrightInfo to our WordPress CMS was seamless and easy," said Alon Maimoni, CMO at FortyCloud. "It immediately provided a 76% jump in leads, and I'm very happy with the results and the increased engagement. You have one shot at leaving a good first impression with online visitors – and now we've found a way to help us with that."
"According to CEB, 57% of the customer purchase decision is complete before a customer ever contacts the business." said Boaz Grinvald, CEO of BrightInfo. "It is critical for businesses to engage with their anonymous visitors and provide them with a personal experience to be competitive. With our plugin, websites powered by WordPress can now increase leads and engagement in minutes."
The BrightInfo WordPress plugin provides the following benefits:

Low-touch real-time personalization
Easy BrightInfo sign up from within the WordPress platform
Automated installation of BrightInfo JavaScript onto your Web and Blog pages
The BrightInfo for WordPress plugin is available at https://wordpress.org/plugins/personal-content-recommendations/.
About BrightInfo
With BrightInfo, every website that leverages content marketing can offer the most relevant content to each anonymous visitor – dynamically, in real time and on each page visited.
Businesses that leverage BrightInfo increase visitor engagement dramatically. The service helps ensure visitors are exposed to the most relevant content, consume more content on average, and sign up more for premium content. It can be configured for website and blog pages or to engage abandoning/bouncing visitors on landing pages. BrightInfo requires no configuration, customization or integration and delivers value within minutes of sign up. Visit http://www.brightinfo.com to learn more.