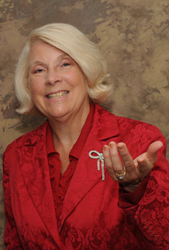 One person's junk is another's treasure.
Daytona Beach, FL (PRWEB) June 17, 2014
"Aesop's Keys to Profitable Marketing" coaches entrepreneurs. The book's publisher is the Premium Book Company.
Dr. Betsy Kruger's book inspires entrepreneurs to use new marketing strategies. Some of "Aesop's Keys" are to focus on quality, compete on strength, target top prospects, and reward the best.
The chapters update Aesop's fables, relate his wisdom to marketing, and show how to customize each key for a startup. A universal law, the 80/20 rule, will predict the results of using "Aesop's Keys". The new marketing strategies coach entrepreneurs to prosper by blessing others.
For example, Chapter 6 describes how Gaye and Frank run a successful eBay business. They prove that one person's junk is another person's treasure. My cousins find junk that specific customers will treasure. Their most profitable customers will gladly pay a high price for adding to their collection of treasures.
An Aesop tale teaches entrepreneurs how to price their products and services. "A peasant decides to cut down an apple tree that produces no fruit. Sparrows who roost in its branches beg him to spare their home. 'Our merry chirping enlivens your work in the garden.' Ignoring their pleas, the peasant raises his ax for the first blow. Hidden inside its hollow trunk is a beehive brimming over with delicious honey. Overjoyed, the peasant drops his ax and exclaims, 'The old tree is worth keeping after all.'"
This tale reminds entrepreneurs that one person's junk is another person's treasure. "Utility is most men's test of worth."
"Kruger has really captured Aesop's spirit and what it means in today's world," states Mihalis Halides, Ph.D., Director of the Institute for Applied Business Strategies, Bethune-Cookman University, Daytona Beach, FL.
Dr. Kruger seeks to ignite the engine of prosperity, one business at a time. Her business, Strategic Power, is certified by WBE and WOBE as a woman-owned business and has an A+ rating with the Better Business Bureau.
Her first book, "Top Market Strategy: Applying the 80/20 Rule," enriches graduate marketing courses. Dr. Kruger provided marketing research to many corporations, sold her software worldwide, and led 2000+ start-ups to succeed.
Her message resonates with business, association, and civic groups. Leaders discover twelve ways to improve their marketing strategies. Her interviews, speeches, and coaching show exactly how any business can spark its profits.
Dr. Betsy Kruger is an expert source on the topic of marketing for small businesses and start-ups. She is a popular guest on syndicated radio shows.