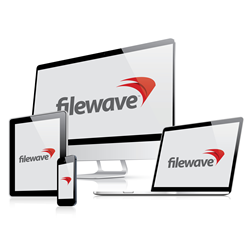 Wil, Switzerland (PRWEB) June 17, 2014
FileWave announces support for Apple's Device Enrollment Program, more commonly referred to as DEP. This new functionality, immediately available in FileWave 8.1, allows FileWave clients to set up profile management, supervision, and application distribution right out of the box for all iOS devices purchased directly from Apple.
Features and benefits of DEP include:

Zero-touch configuration – devices can be configured to instantly enroll with the FileWave MDM server and receive management profiles.
Automatic enrollment and management – devices can have configurations preset to take place at activation with pre-assigned applications, profiles and settings, and even locked into management settings to prevent users from un-enrolling.
Over-the-air supervision – devices can be put into supervised mode during enrollment wireless network, providing an added layer of management settings, such as single-app mode for iOS or enforcement of a global proxy.
Streamlined setup assistant – devices can be configured to skip certain steps in the setup assistant.
Specifics on joining Apple's DEP and device requirements are covered in this document from Apple -
https://www.apple.com/iphone/business/docs/DEP_Business_Guide_EN_Feb14.pdf.
To attend a live demonstration or request a free trial visit: https://2C71BA.campgn5.com/Live-Demo.