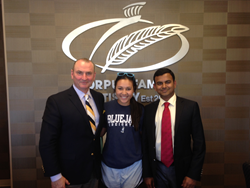 Omaha, Nebraska (PRWEB) June 15, 2014
Maria Corpuz, a sophomore at Creighton University in Omaha, has been chosen as a gooi ambassador by Mygooi, the Des Moines-based mobile technology brand that brings people together using innovative digital products. She will spend two weeks interning with marketing agencies in London and Stockholm before visiting France and returning home in early July.
During that time, Corpuz, 19, of Omaha, will track her experiences using Google Glass eyeware and on her Tumblr blog, gooiadventures (http://gooiadventures.tumblr.com/).
"She is an incredibly enthusiastic, outgoing, personable and dynamic young lady," said Mygooi founder Jay Namboor. "She'll shadow operations of two gooi marketing professionals, Bernie Mitchell from Mainyard Innovation Project in England and Jon Buscall at Jontus Media in Sweden. She'll be a great, gooi, spokesperson."
Tomorrow (Monday, June 16), she'll join Mitchell for a OuiShare Coworking Day. OuiShare (http://ouishare.net/en), officially started in Paris Jan. 2, 2012, is a think-and-do tank seeking to empower citizens, public institutions and companies to create an economy based on sharing, collaboration and openness.
Corpuz has worked in Creighton's admissions office for a year. Says Mary Chase, associate vice provost, enrollment management, "Maria's a great fit for us due to her ability to articulate the mission and value of a Creighton education. Providing welcoming advice and campus tours for us, she is a bright, attractive, articulate young woman who has a promising future. Her skills will translate well to her new project."
About Mygooi
Mygooi™ is an energetic brand platform that is digital, creative, disruptive and global. Its portfolio of emerging products sizzle with IC/DC (Innovation and Creativity/Disruption and Community). Mygooi's utility and purpose is to bring people together with innovative digital products. Based in Des Moines, Iowa, and Chennai, India, Mygooi has as its mission to Go Where The Life Is.™
See Mygooi updates and watch GooiNation grow on Facebook at https://www.facebook.com/mygooi.
Visit our new website and download the app upon release at http://www.mygooi.com.
Mygooi supports the Cystic Fibrosis Foundation. Check them out at http://www.cff.org.
Media Contacts:
Jon Buscall, CMO
Mygooi
+46768637285 / jonb(at)mygooi(dot)com
Kyle Eason, Media Relations, US
Mygooi
641-840-9518 / Kylee(at)mygooi(dot)com
Mark Perlman
Mygooi
312-315-0707 / Markp(at)mygooi(dot)com
Richard Greb
Mygooi
847-651-1445 / Richardg(at)mygooi(dot)com