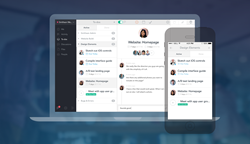 We wanted to develop a product that allows users to focus on what matters most in their day.
Tulsa, OK (PRWEB) June 17, 2014
Whiteboard today unveiled its innovative web and mobile-based app aimed at boosting productivity by bridging the gap between tasks at home and work. With its ultra-clean user interface and intuitive paradigms for organizing workflow, Whiteboard empowers users to focus on accomplishing the tasks that matter most in their day. With its flexible and feature-rich team collaboration capabilities, Whiteboard is able to facilitate the smooth management of client projects, delegation of tasks in corporate departments, or even shared grocery lists.
"In knowing that people spend a majority of their day on the go, we wanted Whiteboard to provide an immersive environment on mobile devices. To achieve this, Whiteboard was designed first as a mobile app, which forced us to focus on displaying relevant information in the cleanest way possible on a small screen while taking full advantage of device capabilities," said co-founder Ryan Gillette. "This, by contrast, allowed the Whiteboard user interface on larger devices to breathe, left plenty of room for advanced desktop functionality, and preserved continuity across devices."
Whiteboard's user interface is not only beautiful and simple to use, but thoughtful; it provides convenient ways to access relevant information such as quick views for to-dos, files, discussions, or people. To deliver a first-class mobile app experience, Whiteboard utilizes swiping gestures to mark tasks as Done as well as enables feature-rich attachments, such as photos or locations.
To effectively form the bridge between personal and professional to-dos, Whiteboard introduces the "Me" view, which cleanly aggregates all of a user's tasks in a unique way. The "Me" view splits tasks into three areas; Later, Today, and Done. The "Today" area provides a concise list of items to address for the day, while the "Later" area provides a way to view all tasks that have been deferred.
"We believe the Me view is revolutionary in the sense that the Today area forms a punch list of items to address for the day as well as indicates to others in a team environment what you're currently working on," said co-founder Kayvon Olomi. "We also realize that as a user's day changes, to-dos may need to be deferred, so we gave the user a way to swipe a to-do off to later and provide options as to when that to-do should re-appear, such as Tomorrow, Next Week, or even Eventually."
Whiteboard is also equipped with the essential features a user would expect in a task and project management product, such as viewing current activity on a workspace, commenting, attachments, filtering, user management, and high-grade security.
Whiteboard is currently accepting sign-ups to its limited preview via their website at http://whiteboard.co.
About Whiteboard
Whiteboard is an independent, self-funded company with one focus; do what matters. Founded in 2013 by Kayvon Olomi and Ryan Gillette in Tulsa, Oklahoma, Whiteboard is a passionate group of individuals focused on solving problems to improve productivity.