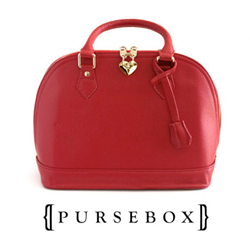 "When looking for a quality leather purse for a reasonable price, women don't know where to go"
Montreal, Quebec (PRWEB) June 15, 2014
Pursebox.ca, Canada's newest online purse-shopping destination, is hosting a Grand Opening Celebration starting at 10:00am EDT on Monday June 16th, 2014 at http://www.pursebox.ca. All handbags are 20% off and customers will receive a dustbag and a surprise gift in every handbag purchased for the length of the celebration.
The opening week will highlight purses from around the world that depict playful fashion and summer fun.
"When looking for a quality leather purse for a reasonable price, women don't know where to go," says Ania Kuskowski, founder of the website. "I've created an online space where they can enjoy the latest purse trends, read an active blog updated weekly with fun and current articles, and be part of a like-minded community that likes to follow the latest fashions without paying thousands of dollars for them. It's a hub for purse lovers. And that's what we're celebrating during opening week," she explains.
Pursebox.ca open its virtual doors to the public this Monday. It provides purses from around the world to women across Canada. The Grand Opening Celebration ends at 12:00am EDT on Sunday June 22, 2014. For more information visit the official Pursebox website.