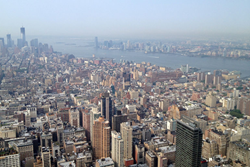 San Francisco, Calif. (PRWEB) June 16, 2014
The approaching summer solstice (June 21) ushers in the longest day of the year and the official beginning of summer. The team at Viator, the leading resource for researching and booking tours and activities worldwide, has a selection of tours and attraction passes – bookable online and on the Viator Tours & Activities App – that take travelers to the "top 10 of the tops," all over the world, for unbeatable views and memorable experiences.
The Tallest Buildings in a Single Bound
Gracing the landscapes of some of the most popular cities in the world are many of the coolest man-made wonders of the world. Incomparable views coupled with Viator's insider access, these lofty experiences shouldn't be overlooked.
Europe

United States

Middle East

Asia

Australia

For more information on Viator as well as the latest deals, promotions, contests and news, check out Viator.com, the Viator Tours & Activities App (iOS and Android) and the Viator Travel Blog. Follow Viator on Facebook and Twitter.
About Viator
Viator is the leading global tours and activities provider for travelers, delivering online and mobile access to thousands of curated trip activities including tours, attractions, shore excursions and private guides, in more than 1,500 destinations worldwide. In-house travel experts work with trusted local operators to ensure the quality and value of every experience, all backed by Viator's 24/7 customer service and global low-price guarantee. With more than 500,000 verified reviews plus exclusive videos and insider travel tips, Viator has everything a traveler needs to find and book the best things to do worldwide. In addition to the flagship site – Viator.com – travelers can book in advance or in-destination via the Viator Tours and Activities App, as well as local-language sites for European, Latin American and Asian travelers. Viator also provides tours and activities to more than 3,000 affiliate partners including some of the world's top airlines, hotels and online travel agencies. Founded in 1995, Viator is a privately held company headquartered in San Francisco with regional offices in Sydney, London and Las Vegas. Viator – travel with an insider.