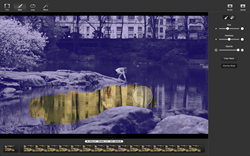 At Flixel, we've taken a once complex editing process for living photos and made it easy, quick and intuitive
Toronto,Ontario (PRWEB) June 16, 2014
Flixel Photos Inc., announced today the launch of Cinemagraph+ for Mac, a consumer tool specifically designed for the easy and intuitive creation of living photos. Unlike a still photo, a living photo seamlessly combines the effects of video capture and still imagery, offering the latest evolution in digital advertising and photography.
"We are very excited about living photography as a new form of visual storytelling," says Philippe LeBlanc, Flixel's co-founder and CEO. "In addition to developing creation tools, our primary objective is to educate artists on this new medium and its various applications. With the introduction of our consumer product at an accessible price point of $49.99, we are making this technology and the art form available to a wider community of artists."
Cinemagraph+ for Mac comes after the successful introduction of Cinemagraph Pro, Flixel's 2014 Apple Design Award winning application launched back in late February 2014. Within weeks of its introduction, Flixel's professional living photo software topped the Mac App Store charts in nearly 80 countries around the world.
"At Flixel, we've taken a once complex editing process for living photos and made it easy, quick and intuitive," says LeBlanc. "We see a future where living photography will be used consistently as a powerful storytelling medium and thus the need for a consumer oriented offering for desktops."
Cinemagraph+ includes support for HD (1080) resolution video, Flixel's patented masking technology, seamless looping options and a wide range of filters for $49.99. Creators can upload and share their living photos in high resolution to Flixel's community as well as to a variety of social networks. Flixel also offers its audience the ability to embed living photos onto websites and blogs. The embeddable Flixel player hides the complexities of video on the web and provides a seamless experience that auto-plays and auto-loops in all browsers and mobile.
Flixel's iOS version of Cinemagraph+ is available for download from the App Store on iPhone, iPad and iPod Touch. The app enables users to create beautiful living photos all while accessing specially curated galleries by Flixel's community, featured photographers and America's Next Top Model. Flixel's redesigned free Cinemagraph app also includes a basic creation process and the option to output a looped video suitable for Instagram and Facebook (with an in-app purchase).
Flixel's Cinemagraph+ and Pro are available for $49.99 and $99.99 on the Mac App Store.
Cinemagraph+ for iOS is available for $19.99 only from the App store on iPhone, iPad and iPod touch.
ABOUT FLIXEL PHOTOS INC.
Flixel Photos Inc. (http://www.flixel.com) is a pioneer and leading provider of digital technology that enables artists to combine features of video and photography creating a "living photo", a still image with moving elements. Flixel Photos Inc. operates in a cross-market between photography and video editing software, and its patent-pending technology allows users to create "living photos" within seconds on mobile and desktop. The company is headquartered in Toronto, Canada and has a presence in New York and Los Angeles.
For more information or to schedule an interview, please contact Mark Homza, Flixel's co-founder – mark(at)flixel(dot)com - 310.661.1936.