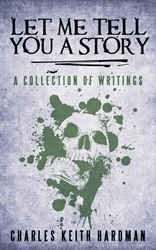 There can be no boundary when a writer uses his or her imagination
San Francisco (PRWEB) June 17, 2014
Three-time author Charles Keith Hardman loves a challenge. When he contemplated reviving several unpublished short stories he had written four decades earlier, he realized attitudes about entertainment had changed. But he wanted the stories to be read and enjoyed, and he isn't the kind of person who gives up.
Let Me Tell You a Story is a collection of short stories that takes the reader on a different kind of journey than is offered through today's mainstream media. The brevity of each story matches current attention spans, while the atmosphere of the stories harkens back to shows of the author's youth, such as The Twilight Zone and The Alfred Hitchcock Hour.
"I want these to be the kind of stories people tell around a campfire," Hardman said.
Though campfire stories might tend toward the spooky, the stories in Let Me Tell You a Story cannot be bound by one genre, as Hardman is as comfortable writing a Western as he is writing a romance or a science fiction tale.
"There can be no boundary when a writer uses his or her imagination," Hardman said.
For more information, visit http://www.archwaypublishing.com/.
Let Me Tell You a Story
By Charles Keith Hardman
ISBN: 978-1-48080-548-4
Available in softcover, e-book
Available on Amazon, Barnes & Noble and Archway Publishing
About the author
Charles Keith Hardman is the author of Let Me Tell You a Story, The Curse, and No Lullaby for Tommy. He enjoys traveling, scuba diving, and underwater photography.
# # #
For review copies or interview requests, contact:
Jaymie Shook
317.602.7137
jshook(at)bohlsengroup(dot)com