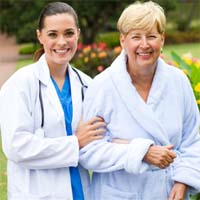 Even when adjusted for age, stage, race, and treatment, female MPM patients experienced longer survival than men.
Raleigh, NC (PRWEB) June 18, 2014
New York researchers say women survive malignant pleural mesothelioma three times as often as do their male counterparts. An article on the new study has just been posted on the Surviving Mesothelioma website. Click here to read it now.
Population health experts at North Shore/Long Island Jewish Health System –Hofstra School of Medicine and thoracic surgeons at Mount Sinai Health System studied the SEER database of 14,228 mesothelioma cases diagnosed between 1973 and 2009. Twenty-two percent of patients in the study were women.
"Despite similar baseline characteristics for both genders, 5-year survival was 13.4% in women and 4.5% in men," reports the study's lead author, Emanuela Taoli, MD, PhD with the Department of Public Health at North Shore.
The study in the Annals of Thoracic Surgery found that the disparity existed even when mesothelioma patients were adjusted for age, stage, race and treatment. Male and female mesothelioma patients tended to be diagnosed around the same cancer stage and were offered similar treatment options.
"On the surface, this study appears to be good news for female mesothelioma patients, but it is potentially important for all patients if it leads to a better understand of the factors that impact mesothelioma survival," observes Surviving Mesothelioma Managing Editor Alex Strauss.
For more details on this study, including the gender differences that researchers believe deserve further study, see Women Much More Likely to Survive Mesothelioma than Men now available on the Surviving Mesothelioma website.
Emanuela Taioli, et al, "Women with Malignant Pleural Mesothelioma Have a Threefold Better Survival Rate Than Men", June 11, 2014, Annals of Thoracic Surgery, Epub ahead of print, http://www.annalsthoracicsurgery.org/article/S0003-4975(14)00824-8/abstract
For nearly ten years, Surviving Mesothelioma has brought readers the most important and ground-breaking news on the causes, diagnosis and treatment of mesothelioma. All Surviving Mesothelioma news is gathered and reported directly from the peer-reviewed medical literature. Written for patients and their loved ones, Surviving Mesothelioma news helps families make more informed decisions.