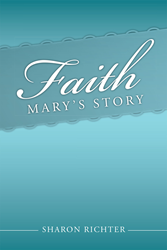 There's always a fascination with the paranormal. Faith is a sort of how-to book for figuring out the psychic harassment Mary went through
New Haven, Conn. (PRWEB) June 17, 2014
When Sharon Richter's daughter was attacked by dark shadows, she kept it to herself, thinking no one would believe her. When the twenty-five year old finally got up the nerve to tell others about it, she was astounded that they had also seen the shadows.
Richter wrote Faith: Mary's Story to let others who have dealt with the paranormal know they are not alone and that they can overcome evil with their faith in God.
"There's always a fascination with the paranormal. Faith is a sort of how-to book for figuring out the psychic harassment Mary went through," Richter said.
Besides the harassment her daughter was experiencing, Richter had her own brush with the paranormal – a near-death experience that occurred when she was only seven.
"I believe that people who have had a near-death experience are left with a sensitivity to the other side," Richter said. "I thought it was important for people who have that sense of the other side in their lives to know that they're not alone or crazy, that there are good and evil forces."
For more information, visit http://www.authorhouse.co.uk/.
Faith: Mary's Story
By Sharon Richter
ISBN: 9781491898321
Available in softcover, hardcover, e-book
Available on Amazon, Barnes & Noble and AuthorHouse UK
About the author
Sharon Richter lives in Cheshire, Connecticut, with her husband, Dave. A self-proclaimed church lady, she derives great pleasure in volunteering at her church office and being a reader at mass.
# # #
**FOR IMMEDIATE RELEASE**
For review copies or interview requests, contact:
Jaymie Shook
317.602.7137
jshook(at)bohlsengroup(dot)com