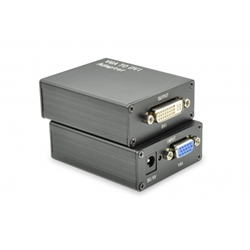 (PRWEB) June 16, 2014
Recently, Hiconn Electronics, the outstanding electronics accessory manufacturer, has announced its new designs of VGA to DVI Adapters.
Hiconn Electronics' VGA to DVI Adapters are available in various specifications. Now, all of them are available at discounted rates, up to 28% off; the main purpose of the special offer is to show appreciation for worldwide clients. Customers who are interested in the discounted items are encouraged to browse through its website for more details.
Here are some details about the company's new items:

Aluminum shell for stronger protection
Compliant with DVI 1.0 specifications
Support the resolution up to 1080p@60hz
Support Hot Plug
Coming with certified 5V 1A power supply
Converting an analog video output signal from a computer for use with an HDTV
Connect a laptop computer to a boardroom projector or display, for on-screen presentations
The company has confidence in the new VGA to DVI Adapters. When shopping at Hiconn Electronics' website, all people can pay less for more. "We are happy to launch the special offer for VGA to DVI Adapters. I think this is a great opportunity for those who want to purchase high quality adapters at affordable prices. If you are interested in them, please visit our website now," the company's sales manager says.
About Hiconn Electronics
Hiconn Electronics (Shenzhen Hiconn Electronics Co. Ltd.) is devoted to designing and manufacturing a wide range of connection cables and customized cable assemblies, offering many HDMI cables, VGA cables, SATA cables, USB cables, 1394 cables, DVI cables, SCSI (Small Computer System Interface) and more. For more information, please visit http://www.hiconn.net/.
Contact Person: James Yin (Sales Director)
Company Name: Shenzhen Hiconn Electronics Co., Ltd.
Address: Shenghua Building., Xixiang Road., Baoan District, Shenzhen, Guangdong Province, China
Zip Code: 518102
Tel: +86-755-8109 8345
Fax:+86-755-2779 3497