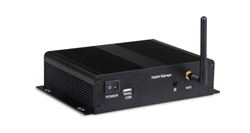 (PRWEB) June 16, 2014
Digital-Signage-China.com is a leading digital signage software manufacturer. As one of the most popular suppliers in the world, the company has proudly updated its product line with a new collection of DSP-100D Digital Signage Players. In addition, the company has announced all these players are offered at promotional prices, up to 27 percent off.
The competitive prices can certainly attract worldwide clients. It is worth mentioning that Digital-Signage-China.com considers customer satisfaction as the top priority. This is why it insists on offering 24 /7 online service for its new and old customers.
Digital-Signage-China.com is devoted to making affordable, high end digital signage software products, and the new DSP-100D Digital Signage Players are among its most practical items. The company's professional design team can keep pace with the most advanced production technology and manufacture what consumers actually want.
The company's marketing specialist says, "We are so happy to release our new DSP-100D Digital Signage Players. Each of them is very useful. As a matter of fact, all the new items are made with top quality materials and comes with a low price. I am sure the international clients will enjoy using them. By the way, we are also selling many other useful products on our website. If you want to buy cheap digital signage software products, please visit our online shop."
About Digital-Signage-China.com
Digital-Signage-China.com is a well-known digital signage technology company with the eligibility of production, installation and maintenance of digital signage products. The company has much experience in the industry, and its customers are provided with the best resources and professional tips. It aims to offer all kinds of high end digital signage products for the global market.
For more information about its digital players, visit http://www.digital-signage-china.com/.