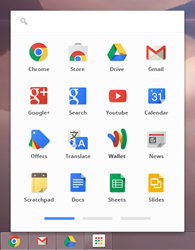 Our new service means we can help convert Chrome app to mobile app on Android and iOS platforms.
Alexandria, VA (PRWEB) June 21, 2014
BestToolBars has announced that its Chrome extension development team can now help clients to convert their Chrome extensions across a number of new platforms, including to mobile devices and the Android and iOS platforms.
The new service will help developers get to grips with the Google App Launcher and better use the full power of the Chrome App Launcher to expand apps cross-platform from the initial Webstore upload to Chrome browser, Chromium OS, and conversion into mobile apps. This new service comes as BestToolBars urges developers to embrace Chrome apps.
The extended expertise will enable those with Chrome extensions to make the leap, opening up a significantly larger audience pool than would be the case for extensions alone. Valery Kuznetsov, Key Projects Manager at Besttoolbars said, "Whether developers have an existing Chrome extension, are considering developing one or thinking about expanding a current project to new platforms, we would urge them not to forget about Chrome apps. This can significantly increase the user audience and it is this primary benefit which has motivated us to extend our support to this area."
"With Google App Launcher, developers can expend cross-platform and make their app work much harder across a range of devices and technologies. Chrome App Launcher is the hub of all Chrome apps, and when developers install an app from the For Your Desktop collection in Chrome Webstore, the App Launcher is offered free. Our new service means we can help convert Chrome app to mobile app on Android and iOS platforms. Thanks to our experience, it will take much less time than developing a mobile app from scratch which is a significant advantage."
To find out more, visit http://besttoolbars.net/services/chrome_extension_development/.
About Besttoolbars: Besttoolbars is a company well known for creating browser toolbars and add-ons. It has worked with an array of global brands, from start-ups to high-profile Fortune 500 corporations including Amazon, Skype, IBM, DHL, TNT and Intel. More than 7000 companies currently use solutions created on the Besttoolbars platform. Its product line includes:

Toolbar Studio: IDE for designing toolbars for Internet Explorer and Firefox
Add-ons Framework: Framework for building add-ons for Internet Explorer, Firefox, Chrome, Safari, and Opera
Besttoolbars also offers a number of services to help businesses integrate their products with desktops and mobile phones. It provides custom browser development, add-ons, add-ins and mobile app development.