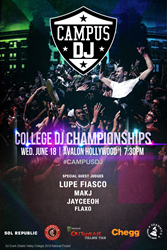 Santa Monica, Calif. (PRWEB) June 16, 2014
Campus DJ is set to host the second annual College DJ Championships, taking place this Wednesday night June 18th at Avalon Hollywood. Each of the 12 finalists have earned their place at the Finale by beating out competing DJs who represent over 210 colleges and universities nationwide. By winning regional battles the finalists have also gotten the chance to open up shows along the way with special guest headliners including Cash Cash and The Chainsmokers.
This year's Campus DJ National Champion will win a $10,000 grand prize from Monster Energy and Campus DJ, Free Burritos For A Year from Chipotle, an exclusive prize package from lifestyle audio company SOL REPUBLIC, as well as a cash grant from Chegg to a charity of choice named by the winning DJ. One lucky fan will also win Free Burritos for a Year from Chipotle!
For the second year in a row, the finals will take place in Los Angeles, CA at Avalon Hollywood. Celebrity judges and presenters for this year's Finale include: GRAMMY Award-winning artist Lupe Fiasco (also a member of DJ duo The SNDCLSH), MAKJ (globally-recognized EDM star and Chipotle Aficionado), Jayceeoh (world-renowned turntablist and producer), and Flaxo (2013 Campus DJ National Champion from Columbia University). Special guest performers will be appearing throughout the night, along with a full headlining set by Vice/Atlantic recording artist Action Bronson.
This year's competing finalists include: Bentley Montes & Yung Elvis (UCLA), DJ Lick (Colgate U), DJ Munition (ASU), Halogen (Georgia State U), Atomika (NC State), Vonzie (NYU), DJ Adam Treblig (SFSU), Moneta (UT Austin), Jeff Molner (FIU - Miami), Norvege (Columbia College), DJ +One (Michigan State), and Sokko & Lyons (U of Oregon).
What's more, the DJs will once again be Spinning For A Cause, presented by Chegg and promotional partner Music for Good. The winning DJ will have the opportunity to select the non-profit organization of his or her choice to receive a generous cash donation, sponsored by Chegg.
Last year's winner Flaxo said, "Campus DJ has been so much more than a chance at a prize and a concert. It's connected me to other passionate DJs and musicians who I keep in touch with, it's opened doors I never imagined, and it's been a humbling chance to have validation in one of the most competitive and frenetic industries in entertainment. I actually couldn't have imagined all the great opportunities that have come out of it."
Campus DJ Co-Founder, Evan Shapiro adds, "It's been incredible to see the growing support from universities, brand partners, industry judges and the fans for this great cause of rewarding college DJs and music producers".
ABOUT CAMPUS DJ
Campus DJ is the only nationwide search for collegiate DJs and music producers. The tour delivers unique events featuring the top college DJs and major headlining talent on campuses and in college towns across the country. Campus DJ is a sister event to the national College Battle of the Bands, the popular collegiate-music competition, which will be making its return for a 5th season in a new format this Winter 2014-15. Major headlining acts on the tours to date have included: Avicii, T-Pain, Big Sean, The Chainsmokers, Carnage, Dev, Cash Cash, 3LAU, Jhene Aiko, MNDR, Big Boi of OutKast, and more.
Visit http://www.campusdj.com // http://www.facebook.com/campusdjofficial // http://www.twitter.com/campusdj