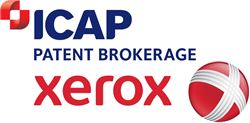 This is one of the first sales of this type to feature a single corporation in a sealed bid auction.
Norwalk, CT (PRWEB) June 16, 2014
Xerox (NYSE: XRX) has engaged intellectual property broker ICAP Patent Brokerage to auction 239 U.S. patents across 26 technological fields. Bidding will take place between July 24th and July 29th. The patents represent projects from Xerox's five global research centers, including PARC, a Xerox Company.
Ranked as one of the world's top innovators, Xerox and its subsidiaries are annually awarded more than 1,000 U.S. patents across a broad spectrum of the services, software, and hardware disciplines and in the physical and life sciences.
"Our scientists and engineers are constantly pushing the boundaries of the unknown, adding to Xerox's more than 12,000 active U.S. patents," said Sophie Vandebroek, Xerox chief technology officer and president of the Xerox Innovation Group. "It is vital that we seek the best return on our innovation investments. We do that not only by using intellectual property to expand our services and product offerings, but also by licensing our patents and where appropriate, selling them."
"This is one of the first sales of this type to feature a single corporation in a sealed bid auction," said Doug Rhoten, Chairman of ICAP Patent Brokerage. "After thorough analysis, Xerox and ICAP Patent Brokerage will be presenting a series of patent portfolios, concentrated on heavily-cited and technologically-relevant patents, to the market for the full spectrum of buyers."
Specifically, the assets will be sold in lots corresponding to sub-portfolios that have been assembled according to the following technologies:
Mobile Devices
Web Content
Queries & Keywords
Wireless Networks
Multimedia
Shopping, Payment, and Ordering Systems
Audio Communications
Touch Screen /User Interfaces
Social Networks & Recommender Systems
Networking & Servers
Compression/Decompression (Codec)
Display
Printers & Print Systems
Document Services via Mobile
Mobile Services across Wireless Networks
Connected Devices
Document Enrichment
Intelligent Imaging
Electronic Paper Displays
HD Video Conferencing
Audio-to-Text (Mobile Devices)
Biometric/Secure Communications
Microelectromechanical systems (MEMS)
Real-Time Storyboarding
Transmission Line Detection
Programming Language
Connectivity
Oil Recovery
Click here or enter http://icappatentbrokerage.com/xerox-corporate-sealed-bid-auction to view a comprehensive listing of portfolios now available via sealed-bid auction.
Registration and Placing a Bid
Registration is now open for parties interested in acquiring these assets. In order to participate in the Auction, prospective bidders must complete registration documents. Contact Michelle Tyler of ICAP Patent Brokerage at (857) 241-3731 or via email at Michelle(at)icapip(dot)com to receive registration materials and details. Sealed bids will be accepted from 9:00 A.M. Pacific time July 24, 2014 to 5:00 P.M. Pacific time July 29, 2014. Please review the Bidding Procedures and Conditions of Sale for more information on the bidding process.
To learn more about the assets available for sale in this Auction:
Contact Regen Wallis of ICAP Patent Brokerage at (212)815-9310 or via email at Regen(at)icapip(dot)com.
Follow ICAP Patent Brokerage on Twitter (@ICAP_IP) and join our LinkedIn group.
About Xerox
Since the invention of Xerography more than 75 years ago, the people of Xerox (NYSE: XRX) have helped businesses simplify the way work gets done. Today, Xerox is the global leader in business process and document management, helping organizations of any size be more efficient so they can focus on their real business. Headquartered in Norwalk, Conn., more than 140,000 Xerox employees serve clients in 180 countries, providing business services, printing equipment and software for commercial and government organizations. Learn more at http://www.xerox.com.
About ICAP Patent Brokerage
ICAP Patent Brokerage is the world's largest intellectual property brokerage and patent auction firm, leveraging the talents of experienced patent brokers to match buyers and sellers for the sale of patents, brands, trademarks, and other intellectual property assets as well as licenses. With multiple transaction platforms and unparalleled industry knowledge and experience, ICAP Patent Brokerage is the market leader in the transaction of intellectual property.
-XXX-
Media Contacts:
Bill McKee, Xerox, +1-585-423-4476, bill.mckee(at)xerox(dot)com
Sarah Saites, ICAP +1-312-327-4437, Sarah(at)icapip(dot)com
Note: To receive RSS news feeds, visit http://news.xerox.com/rss. For open commentary, industry perspectives and views visit http://www.linkedin.com/company/xerox, http://twitter.com/xeroxcorp, http://realbusinessatxerox.blogs.xerox.com, http://www.facebook.com/XeroxCorp, http://www.youtube.com/XeroxCorp.