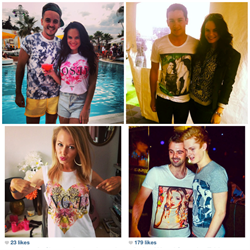 Our customers know they can rely on us to translate their designs into high quality finished pieces.
London, Barcelona, Berlin (PRWEB UK) 17 June 2014
Garment Printing has experience in working with fashion designers and aims to help fashion design newcomers with a price-beat promise for fashion start-ups and new fashion design businesses.
"We are working with many fashion designers and they are dear clients to us. Garment Printing wants to continue to support and encourage more new designers with this price-beat promise," says Gavin Drake, Director of Garment Printing.
Labels like HONORAY are valued, returning customers. Ray Cabby, Creative Director at HONORAY is happy with the high quality of the prints and textiles of Garment Printing. "[We get some] excellent feedback from our customers," said Cabby.
Starting a fashion label has never been easier. Sophisticated design software programs like Adobe Photoshop and Illustrator are widely available and designers can promote and sell directly to customers with the help of the Internet and social media. Garment Printing explains that a reliable printing company can be integral to the success of a new fashion company.
"In such a competitive environment, fashion designers require a reliable and cost-effective printing service and Garment Printing is passionate about bringing original, vibrant designs with colourful images to life on bright garments, with the newest direct to garment printing technology. Our customers know they can rely on us to translate their designs into high quality finished pieces," said Drake.
The new fashion label Pickpokit was initially focused on guitar-pick wallets, but decided to use Garment Printing to print their designs onto t-shirts too. Jo Vickery, from Blazon Marketing services was delighted with the finished result. "The t-shirts look great. Very pleased with what we've seen so far! Hopefully they'll fly out and we can order some more very soon! A big thanks to Garment Printing for all their help, and thanks for following the whole job through too - nicely done!"
Another fashion label client is the JUST Clothing Company who specialise in high quality, organic baby clothing ranges. Their profits support women's enterprise groups throughout the world, which invest in their future through education, skills training and technology. Garment Printing demonstrates its dedication to helping charities with their charity price-beat promise. "Working with a clothing label that has the same goals is a perfect fit for Garment Printing, we hope to work with many ecological, sustainable and charitable clothing brands in the future." states Drake.
Garment Printing are currently offering fashion newcomers a special offer for the months of June and July. Visitors can buy 10 DTG printed shirts and get one free with promotional code "FASHION" until the end of June.
To find out more about Garment Printing, visit their website.
About Garment Printing
Garment Printing is an industry-leading international promotional and customised clothing company that aims to maximise the efficiency of marketing teams and agencies through its integrated, global supply chain. Garment Printing offers a complete range of bespoke personalised t-shirt printing techniques including screen printing, embroidery, direct-to-garment and the latest dye sublimation t-shirt printing technology combined with express turnaround and excellent customer service. Garment Printing's agency work involves consultation with global brands, marketing teams and promotional agencies to ensure all printed clothing campaigns are realistic, within budget and effective. Its dedicated team act as extended members of the client's business to efficiently exceed customer and client expectations. For more information visit our website, follow us on LinkedIn, Facebook and Twitter.