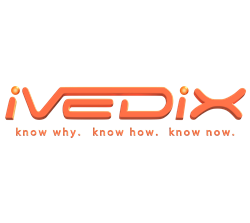 People who see miVEDiX in action believe in it.
Pittsford, New York (PRWEB) June 17, 2014
iVEDiX, a premier business intelligence and mobile analytics solution provider based in Pittsford, New York, is announcing the completion of a $5 million convertible note offering. Proceeds from the offering will be used to fund accelerated product development, sales and marketing initiatives, and the company's global expansion campaigns. It will also be used to support additional key hires.
Accelerated product development will be directed towards miVEDiX, the company's mobile business intelligence and analytics platform. miVEDiX allows companies to explore their data directly through visualization and mobile device interfaces, while bringing Business Intelligence to a large group of end-users through a design that focuses on intuitive use.
"We are of course thrilled with the momentum we have generated, and investor response to the miVEDiX platform has been incredible," says Marty Glavin, President and COO of iVEDiX. "People who see miVEDiX in action believe in it. The miVEDiX platform continues to receive positive feedback, and our 'mobile-first' strategy for big data and business analytics takes full advantage of the dramatic market shift to mobile devices. So, it's both product validation and the shift to mobile that is driving our growth."
About iVEDiX
Founded in 2009, iVEDiX offers extensive BI solution consulting across a wide variety of industries, including healthcare, telecom, retail, and business services. miVEDiX, iVEDiX's flagship mobile analytics platform, gives users access to their data from their mobile device, and combines rich visualizations with sophisticated interface options and real-time updates. iVEDiX is headquartered in Pittsford, New York, with offices in Boston, Bangalore, and Dubai.