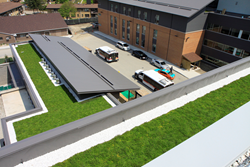 This project was engaging for us, as we knew that it would have an impact on those who reside and work in the facility.
Toronto, Ont (PRWEB) June 17, 2014
Kipling Acres, one of the City of Toronto's ten long-term care homes, now features a planted rooftop of approximately 23,000 square feet. The living, planted roofs are part of a bird-friendly landscape design that will provide residents with improved access to nature.
The LiveRoof® Hybrid Green Roof System was grown by LiveRoof Ontario, Inc. the regional grower for the LiveRoof system, and was installed by The Downsview Group. The redevelopment was designed by Montgomery Sisam Architects, and phase one construction was managed by Buttcon Limited.
"The design of the green roof will be very popular with our residents, especially during the warmer weather, as the outdoor landscape includes bird-friendly features that will no doubt enrich residents' quality of life," said Nelson Ribeiro, Administrator of Kipling Acres.
Green roofs offer many benefits, including beautification, water management, air purification and improved energy efficiency. The City of Toronto is a leader in embracing green roofs for their contributions to stormwater management, and was the first North American city to implement a by-law for green roofing.
LiveRoof Ontario, Inc. has provided green roofs on other city-owned facilities, including City Hall's Nathan Phillips Square podium roof and a number of Toronto Transit Commission stations.
"This project was engaging for us, as we knew that it would have an impact on those who reside and work in the facility. We started growing the project last year to ensure that it the green roof modules would be fully mature upon installation this spring," said Peter Hillen, Owner of LiveRoof Ontario, Inc.
The second phase of the Kipling Acres redevelopment will also include a planted roof of similar size.
Photographers and videographers welcome. Arrange interviews and for more information with kees govers, (519) 671-5777, kees(at)liveroofontario(dot)ca.
About Kipling Acres – Kipling Acres is one of the City of Toronto's (toronto.ca) 10 long-term care homes, and is being redeveloped with capital funding from the City of Toronto and the Ministry of Health and Long-Term Care, as part of the Ontario government's long-term care home renewal strategy. The new home offers 192 long-term care beds in private and semi-private rooms that are spacious and wheelchair accessible. Kipling Acres serves seniors and a large number of young adults.
About LiveRoof Ontario. – Located 20 minutes west of London, Ont., in the quaint, agriculturally rich, town of Mount Brydges, LiveRoof Ontario, Inc.is a part of Hillen Nursery, Inc., a family owned and operated company operating since 1983. LiveRoof Ontario, Inc. is the leading modular green roof producer in Canada. To date, the company has locally grown over half a million square feet of green roofs installed in the province.
About LiveRoof - Based in Spring Lake, Michigan, LiveRoof® Global, LLC is the top horticultural science company in the green roof industry. Exceptional in design and function, the LiveRoof® Hybrid Green Roof System is the proven green roof system. LiveRoof establishes a healthy, sustainable ecosystem covering rooftops with seamless vegetation. Licensed regional growers customize plant selection for every LiveRoof project. They deliver the system's modules abundantly vegetated with locally cultivated, full-grown plants for an instant green roof and trouble-free ownership. LiveRoof's natural function and natural beauty offer the highest level of green roof performance with ultra-low maintenance costs. The proof is on the roof — over four million square feet installed and showcased on liveroof.com.