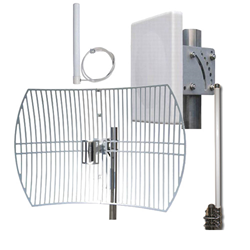 (PRWEB) June 17, 2014
Today, ZDA Communications, a popular antenna company in the wireless communication industry, introduces its new WiFi antenna collection, which includes WiFi Yagi antennas, WiFi Grid antennas, WiFi parabolic dish antennas, WiFi omni directional antenna and more. The business has also launched a WiFi antenna promotion, which will last until June 30, 2014.
According to a senior of the company, their WiFi antennas are specially designed to be used in wireless systems and are suitable for point-to-multipoint applications, or point-to-point applications like building-to-building links.
"We are excited to introduce our new WiFi antennas and launch the antenna promotion. All our WiFi antennas are made with high quality materials. Each antenna is carefully checked and tested before shipment in our manufacturing facility, and it comes with a two-year warranty term. We provide OEM service and custom designs are available here for the clients worldwide."
Moreover, the company has recently introduced its UHF antenna collection. The CTO of the business says, "UHF, ultra-high frequency, designates the ITU radio frequency range of electromagnetic waves between 300 MHz and 3 GHz. Our UHF antennas are specially designed and engineered for harsh conditions."
ZDA Communications has been working on wireless antennas for years. The company is responsible for giving customers the most informative overviews of all its products. It has a lot of experience in the co-operation of material suppliers, users, operators and industry experts. If people want to contact ZDA Communications, they can send an email simply.
About ZDA Communications
ZDA Communications US LLC is a leading manufacturer and supplier of all kinds of wireless antennas, including Yagi antenna series, Parabolic dish antennas, cell tower sector antennas, External wireless antennas, mobile antennas, Broadband and Ultra Wide Band Antennas. For more details of the company and its products, please visit http://www.zdacomm.com/.