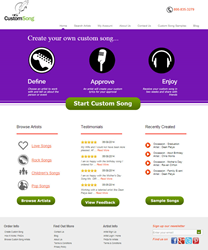 Creating something completely unique and original to celebrate the special days and people in your life is what Custom Song is all about,
Tampa, Florida (PRWEB) June 17, 2014
Custom Song, a new and fully featured website connecting consumers looking for original and personalized songs with musician songwriters, has recently launched at http://www.CustomSong.com. Custom Song is an innovative new service founded by partners Heather Andrews and Kristina Anderson. The concept for the business was once just a dream for co-founder Heather Andrews who saw the service as a new opportunity to standardize the music on demand industry. "The goal of CustomSong.com is to offer a platform for musicians to earn additional income and to make it easy for customers to have their very own song. When ordering from Custom Song, customers will know what to expect in terms of the song price, length, turnaround time and, most importantly, quality," stated Ms. Andrews.
CustomSong.com has grown from concept to reality in the last few months. The customer-facing front end of the website contains a library of artists to browse and utilizes an easy-to-use form structure for customers to specify the details of the song they would like written including musical description, artist style, lyric subject matter and more. Artist sample songs are available for customers to listen to and make their selection of the musicians they would prefer to work with.
On the back-end administrative side of the site is a suite of controls and functionality that allows the process to be regulated and the resulting final product to be of high quality. These controls and features were thoroughly thought out before the website development began to ensure a smooth and regular process for all orders. Now that the business is open to the public, the operational management and customer service is committed to making a personal and unique experience for each customer.
Customers are involved in every step of the process, from notification when an artist begins working on their song to an approval process of the written lyrics. Customers and artists are able to communicate throughout the process via the online platform. This process was designed to ensure a perfectly customized song is created every time and, as a result, the initial artist and customer feedback to this creative new service has been very positive.
"Creating something completely unique and original to celebrate the special days and people in your life is what Custom Song is all about," said Heather Andrews. "Weddings, birthdays, anniversaries and other major events are all milestones in life. With Custom Song, we are able to share in the joy of these life events and provide the soundtrack for the memories made that can be shared again and again. It is absolutely a fun and exciting business for us."
All Custom Songs are guaranteed within two weeks and a rush option is available for an additional fee. Custom songs are the perfect personalized and unique gift idea for weddings, birthdays, children's parties, graduations and more.
To learn more, start a Custom Song order, view recently created songs and read customer feedback, visit http://www.CustomSong.com.
ABOUT CUSTOM SONG
CustomSong.com is a website that allows people to connect with music artists to have original and personalized songs created for weddings, anniversaries, birthdays and every other special occasion. Customers are included in every step of the song making process so that they receive just the song they wish for, completely custom to them. Founded in 2013, Custom Song provides the unique gift opportunity that will last a lifetime. To learn more, visit http://www.CustomSong.com or contact Heather Andrews at (800) 835-3279.