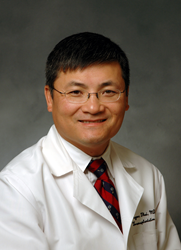 "Our preliminary findings suggest to us that NT619 may be an effective treatment for Type 2 diabetes and its cardiovascular complications." - Ngoc Thai, MD, Director, Center for Abdominal Transplantation, Allegheny General Hospital
Pittsburgh, Pa (PRWEB) June 17, 2014
A two-year, $300,000 DSF Charitable Foundation grant to Allegheny General Hospital (AGH) researchers, supporting the study of pancreatic transplantation and the use of herbal medication for the treatment of type 2 diabetes, is already showing intriguing results in the treatment of hypertension and high blood sugar in a pre-clinical study.
Diabetes now affects nearly 26 million children and adults in the United States, and its incidence is on the rise. Complications of diabetes include an increased risk of heart disease, high blood pressure, blindness and kidney disease.
Spearheaded by Ngoc L Thai, MD, PhD, Director of AGH's Center for Abdominal Transplantation and Jonathan Pollett, PhD, a scientist at the Allegheny-Singer Research Institute, both part of the Allegheny Health Network, the studies underway at AGH focus on better understanding the mechanisms by which pancreatic transplants and an herbal medication called NT619 help diabetics.
"We are very grateful to the DSF Charitable Foundation for its generosity and foresight in funding this important research, which we believe may one day represent a 'paradigm-shifting' new concept in how to better manage this prevalent and often devastating disease," said Dr. Thai. "Our preliminary findings suggest to us that NT619 may be an effective treatment for Type 2 diabetes and its cardiovascular complications."
A deficiency of an unknown factor produced by pancreatic cells leads to secondary complications of diabetes, Drs. Thai and Pollett hypothesize. They are attempting to locate and identify this unknown factor, which appears to possess antioxidant properties and promote the healing of endothelial cells, making them more resistant to stress and injury. Endothelial cells are key to healthy cardiovascular functioning, and impaired endothelial function is frequently seen in patients with diabetes.
Diabetic patients who have undergone pancreatic transplants report an immediate feeling of better health, along with an immediate and lasting improvement in high blood pressure, Dr. Thai said. Similar results are not reported with kidney transplants.
NT619 is an herbal treatment commonly used in Southeast Asia to help control brittle hyperglycemia, a condition in which blood sugar levels fluctuates wildly and unpredictably in individuals with diabetes.
Drs. Thai and Pollett hypothesize that NT619 may boost the growth and integrity of endothelial cells. Anecdotally, it is considered by some to be effective in reducing severe high blood sugar, but this claim has not been scientifically proven.
In preliminary research presented at the American Diabetes Association's 74th annual Scientific Sessions, June 13-17 in San Francisco, Drs. Thai and Pollett studied the effectiveness of NT619 in the Zucker diabetic fatty (ZDF) rat, which closely resembles Type 2 diabetes as the rats exhibit obesity, hypertension and high blood sugar.
Within six weeks 13 of 14 rats achieved blood glucose levels under 200 mg/dl and blood pressure dropped to normal in all of the rats. Control groups continued to experience hypertension and hyperglycemia. When some of the animals were switched from the NT619 group to the control group, they became hypertensive and hyperglycemic within one week of withdrawal from NT619.
The DSF Charitable Foundation is the charitable-giving organization of the David Scaife family.