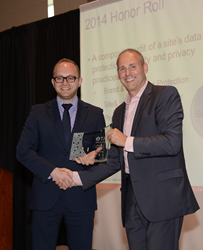 OTA reported that only 30.2% of the sites they analyzed achieved a passing score on their audit.
Wilmington, Del. (PRWEB) June 18, 2014
GetResponse, the leading email marketing provider, was honored in Chicago for the third year in a row by Online Trust Alliance (OTA), a nonprofit organization dedicated to identifying and promoting ways to protect the security, privacy and identity of Internet users. The OTA Honor Roll recognizes trustworthy companies based on independent audits performed without notice. Other 2014 honorees include American Greetings, Netflix, Walmart, and Sony Electronics.
"Online Trust Alliance is an influential leader in the movement to make the Internet a safe, secure environment," said GetResponse Founder and CEO Simon Grabowski. "We consider it a great honor to be ranked for trustworthiness alongside many of the world's top brands."
OTA reported that only 30.2% of the sites they analyzed achieved a passing score on their audit.
ABOUT ONLINE TRUST ALLIANCE
In 2005 an informal workgroup was formed to combat spam and deceptive email. Members founded an annual summit conference that sold out every year. In 2007 the scope was broadened to include the larger issues of online trust and consumer confidence. Today the workgroup has grown into a member-supported nonprofit organization operating as Online Trust Alliance (OTA).
OTA continues to hold their popular annual conference and now conducts year-round educational workshops on Internet security. The OTA Honor Roll Audit is continually upgraded to address burgeoning issues in Internet security, privacy, and consumer protection. They publish statistics on the number of companies that fail the audit but do not reveal their names for security reasons.
ABOUT THE TRUST AUDIT
OTA conducts its audits without prior notice to the target companies, accessing publicly available data and the company website as a consumer would. Audited categories include Internet retailers, FDIC banks, U.S. federal agencies, social media, and news media. OTA also audits the sites of its members and provides confidential reports on strengths and weaknesses. From April 15 to May 23 of this year, they analyzed more than 300 million email headers and 8,500 web pages, evaluating their practices in three major areas:
1. PROTECTION: The audit examines the company's use of email authentication tools that verify sender identify, including Sender Policy Framework (SPF), Domain Keys Identified Mail (DKIM) and an expand version of these tools known as Domain-based Message Authentication, Reporting and Conformance (DMARC).
2. SECURITY: This portion examines each company's use of the well-know server configuration Secure Sockets Layer (SSL). The audit adds bonus points if the company uses such enhancements as Extended Validation SSL Certificates (EV SSL), Always On SSL (AOSSL), and Domain Name System Security Extension (DNSSEC). The audit also tests for the presence of malware and malicious links.
3. PRIVACY: The audits cover a wide variety of best practices and controls including privacy policies, visitor tracking, disclosures, honoring browser settings, and WHOIS registration. The audit penalizes the scores of companies that have experienced data breach and loss incidents or have settled FTC and state legal claims.
In recent years, these best practices and controls have been widely adopted in categories such as online retail and social media. Other categories continue to lag, including banking, news media, and federal agencies. Most OTA member companies have adopted OTA recommendations and typically rank higher than any other industry category.
"The Online Trust Audit mirrors the security concerns we address every day," said Simon Grabowski. "We hope many more organizations adopt theses best practices and controls. It will elevate them to a position of trust and make the Internet safer for businesses and their customers."
ABOUT GETRESPONSE EMAIL MARKETING
With a community of over 300,000 users and three-year sales growth rate of 169%, GetResponse debuted in 2013 on the Inc. 5000 list of fastest-growing U.S. companies. The company has garnered an impressive 9 Stevie Awards, considered the business equivalent of the Academy Awards.
As the flagship product of Implix, GetResponse boasts an average deliverability rate of 99.3 percent, achieved through adherence to best industry practices and by collaborating with major ISPs and industry associations to develop superior email delivery technology. For more information, please visit http://www.getresponse.com.