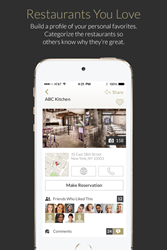 "As a fellow salesperson that used to entertain clients all the time and previously as a consultant on the road… countless hours have been wasted looking for places to take clients."- Former Citigroup Director
New York, NY (PRWEB) June 19, 2014
Problem:
You just got asked to travel to Chicago this afternoon and take your company's biggest client out to dinner.
Do you?
A – Go to one of the restaurant review apps and put your trust in its random and anonymous recommendations.
B – Go to one of the reservation apps and book something near their office that's available.
C – Spend hours tracking down your friends and family to find a restaurant that they think would impress.
D – Spend seconds on Paradine and look at what your Chicago network recommends for business dinners in the area you need.
Answer:
D – Now available in the Apple store…Get ready for a Paradine shift.
When faced with one of life's common challenges…which restaurant should I take my colleague, boss, business associate…..even a date to, people have had to spend way too much time asking friends and family, reading through restaurant review sites and then checking restaurant reservation apps. And then after all that, keep their fingers crossed that they selected the right place (reports show that 20-25% of reviews posted on sites such as Yelp are suspicious, if not fraudulent: http://www.marketwatch.com/story/20-of-yelp-reviews-are-fake-2013-09-24.
Studies show that 97% of people would trust a recommendation from a friend more than an online review written by a stranger. So why are 100,000,000 people still stuck digging through reviews sites every month? That's where Paradine (http://myparadine.com) comes in.
Now available exclusively through for iPhone, iPad and iPod touch (Android version in production), Paradine will offer a solution with the creation of a clean and simple app allowing users to save and share their restaurants recommendations among their trusted network, with an emphasis on targeting the business traveler. That's right, no more office excel sheets, tracking "check-ins," or wasting time wondering where to take your new client out to dinner. Paradine, recently called the "first place when choosing where to dine" by Innovonaut.com and one of the TechCrunch Disrupt's coveted top-8 "killer business apps, will make business entertaining significantly easier and more successful.
Designed in a simple and intuitive manner, members of the Paradine community can discovery instant recommendations from their social or business newtork in whatever city or town they need, with the ability to filter by cuisine, price point, even atmosphere.
By primarily targeting the "working professional" user base, specifically the 25mn US corporate travelers that just spent over $30B dining out in 2013, Paradine is filling a huge void in today's marketplace. Just like LinkedIn did over a decade ago.
Paradine was founded by Jake Farmakis and Chuck Casella after the two noticed how often their colleagues were struggling with online review sites when traveling for work. Farmakis, a former salesman at Goldman Sachs, acknowledges that while dining, business relationships are created, deals are closed, and milestones are celebrated. Choosing the right restaurant can be key to a successful evening. With two Fortune 1000 companies already committed to using the app as soon as it launches, the founding team at Paradine is very excited about introducing this "paradine" shift to the corporate world.
"After several years in the business world it became obvious that many working professionals end up closing a deal or building a relationship over a dinner table than at the office," says Farmakis, a former Goldman Sachs sales analyst. "It's a way to escape from that formal setting and build the sort of lasting personal relationships that go beyond the stat-sheets and boardrooms and ultimately do so much to determine how deals get done and with whom. Some of the most important interactions in the business community take place breaking bread at a restaurant."
Paradine is available for free from the App Store on iPhone, iPad and iPod touch or at http://www.AppStore.com.