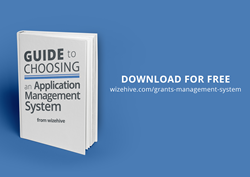 Conshohocken, PA (PRWEB) June 17, 2014
After helping to implement thousands of application processes consisting of millions of applications for organizations like Disney, United Way, Echoing Green, Consumer Electronics Association and others, WizeHive knows what it takes to run a successful application process.
WizeHive has incorporated that knowledge into two new publications and is making them available for free to foundations, associations, universities or anyone else that runs an application process. They are the "Application Management Software Checklist" and a "10 Step Guide to Choosing a System to Manage Your Online Application Processes".
The "Application Management Software Checklist" is a detailed listing of all of the features typically found in today's best online application management systems. This printable guide is a great tool for organizations looking to find and implement a new system as they can use it to determine what features are important to them and then determine which systems have them and which do not. The "Guide to Choosing an Application Management System" offers ten aspects of a system to consider when searching for a new system including data security and support.
"We hear many horror stories about people that have chosen a system only to find that it does not have all the features they needed. We therefore created the checklist and guide as a reference tool that someone can use that has never been through this process before," said WizeHive President Andrew Damico.
Those interested in receiving these guides should visit wizehive.com/grants-management-system.
About WizeHive
WizeHive makes it easy for business people to configure and deploy cloud based solutions that help them organize, automate and streamline their business activities.
Our flagship product, WizeHive Select, is used to streamline and automate paper intensive processes such as online grant applications, online scholarships applications, fellowships and other competitions. The result is the elimination of paper and time spent copying, collating, mailing, and organizing all of that information. In addition, its collaboration and decision making tools provide a simplified way to help them make better, faster decisions.
WizeHive Select is being used by over 600 non-profits and global organizations including Disney, United Way, BlackBoard and Echoing Green to collect millions of online applications each year spread over thousands of application processes.
WizeHive Buzz is similar to Select but has been optimized with a unique set of public voting features that have made it the web's leading online contest software platform for brands, publishers and agencies.
WizeHive's newest product, WizeHive Current was created to help teams work together online to automate and streamline data intensive business processes such as contact & lead management, hiring, service ticketing, bug tracking, event registrations, and much more.
WizeHive Current is unique in that it empowers anyone to quickly and easily build or configure their own collaborative data oriented business application - without needing a programmer or IT person to assist. At the same time Current can be extended by developers using our restful API to connect to hundreds of data sources, or by building simple JavaScript plug-ins using our friendly plug-in architecture.