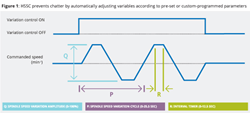 Charlotte, NC (PRWEB) June 17, 2014
Eliminating harmonics, which can produce tool chatter or poor surface finish, is critical for maximizing CNC lathe productivity. Harmonic Spindle Speed Control (HSSC) and Variable Spindle Speed Threading (VSST) are functions built into Okuma's THINC-OSP CNC control that are highly effective harmonics problem solvers. HSSC and VSST are particularly useful when machining parts with high L/D ratios, thin-walled parts, or thin-walled parts with threads.
Harmonic Spindle Speed Control (HSSC)
Historically machinists have prevented the buildup of harmonics or vibration (chatter) on CNC lathes by manually adjusting the spindle speed control knob. However Okuma users can implement the HSSC function that is built into Okuma's control to automatically adjust machining variables in order to prevent harmonics or chatter. Use of HSSC is advised when absolute accuracy is required when machining challenging parts.
Variable Spindle Speed Threading (VSST)
Variable Spindle Speed Threading is used heavily in the oil field industry. It enables the operator to use the "spindle speed override switch" during the threading process to manually change the spindle speed without losing the thread pitch. By varying the RPM, the buildup of harmonics is prevented, eliminating chatter and providing a quality thread. VSST allows users to cut threads with reliability, accuracy and zero scrap.
Avoiding scrap caused by harmonic-induced vibration can be a challenge using conventional solutions. HSSC and VSST functions on an Okuma CNC lathe make it easier to achieve consistent surface finishes on parts. This enables users to create manufacturing efficiencies that increase productivity and establish a competitive edge in the marketplace.
Okuma's HSSC and VSST white paper is available for complimentary download at http://www.okuma.com/hssc-and-vsst-prevent-cnc-lathe-chatter. Learn more about HSSC and VSST in our blog post, CNC Controls – For Chipmakers, By Chipmakers. You can also view our video demonstration that shows VSST in action during a threading operation on an LB4000 EX. For more information about HSSC/VSST and the products on which they're available (Okuma CNC Lathes) check with your local Okuma Distributor, or contact Okuma America Corporation.
# # #
About Okuma America Corporation
Okuma America Corporation is the U.S.-based sales and service affiliate of Okuma Corporation, a world leader in CNC (computer numeric control) machine tools, founded in 1898 in Nagoya, Japan. The company is the industry's only single-source provider, with the CNC machine, drive, motors, encoders, spindle and CNC control all manufactured by Okuma. Okuma's innovative and reliable technology, paired with comprehensive, localized service protection, allows users to run continuously with confidence – maximizing profitability. Along with its industry-leading distribution network (largest in the Americas), and Partners in THINC, Okuma facilitates quality, productivity and efficiency, empowering the customer and enabling competitive advantage in today's demanding manufacturing environment. For more information, visit http://www.okuma.com or follow us on Facebook or Twitter @OkumaAmerica.