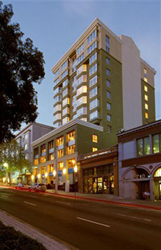 San Francisco, CA (PRWEB) June 16, 2014
Demand remains strong in the second quarter of 2014, with inventory still decidedly low. Luckily, a whole slew of new condo buildings are hitting the market this summer in San Francisco.
Arden by Bosa is a 267-unit condo development with high-end finishes in Mission Bay. Millwheel North in the up-and-coming Dog Patch neighborhood is selling its 39 brand new condo homes now: a mix of one, two and three bedrooms. Vida is an eight-story condo building on Mission Street housing 114 one- and two-bedroom units.
On the other side of the spectrum from that luxurious new development in the Mission is a Mid-Market building on the corner of 9th Street and Mission called Smartspace Mission, comprised of 160 micro-units. 1515 15th St. in the Mission is another uber-modern project by architect Stanley Saitowitz. Speaking of Saitowitz, he has also designed the condo building at 8 Octavia. These 27 residences aren't quite ready for the market yet, but buyers will be ready to pounce on this sleek new gateway to Octavia Boulevard and the delights of Hayes Valley that lie beyond.
1645 Pacific Ave. at Polk is an extravagant new condo building in Nob Hill with high-end finishes. The 39 units there are mostly two bedrooms, but there are some studios, and three bedrooms as well.
Pricing for these new home developments varies, but expect to pay in the $1,000 to $1,500 range per square foot. That a little too rich for some? Well, despair not! ShipyardSF has broken ground on its first units in what was formerly the Hunters Point Naval Shipyard. This is the beginning of what will be a brand new neighborhood complete with commercial and retail space, including 12,000 new homes. These new homes are being built on rolling hills along the waterfront with amazing downtown views. Out of the almost 800 acres of development, over 300 have been set aside as green space. And prices here range from $600 to $700 per square foot. Being a pioneer in a brand new neighborhood has its rewards!
Tim J. Gullicksen recommends buyers have an agent accompany them on their first visit if they'd like to purchase one of these new condos. Also, if buyers are feeling priced out of the market altogether, they can check out the Mayor's Office of Housing website. All of these new developments are required to provide Below Market Rate (aka Inclusionary Housing) Homes for San Franciscans earning between 80 and 120 percent of the median income for the county.
Gullicksen is always ready to answer any questions or assist buyers with whatever they need. Contact him today for more information.
About the company:
Tim Gullicksen has been a top-producing real estate agent since he first entered into the business, and takes great pride in managing every aspect of each transaction. After graduating from high school in the South Bay, Tim earned a bachelor's degree in political science and history from the University of California-Berkeley. He went on to earn his teaching credentials from JFK University in Orinda, and taught kindergarten in the San Jose Unified School District. He brings an educational approach to real estate developed from that background, and sees himself as a facilitator of property transactions. For more information, visit his website at http://www.timgullicksensf.com/.