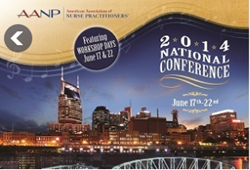 JayMac is extremely excited to be exhibiting a new RX natural treatment option for depression at the AANP in Nashville this week. Towny Robinson, CEO, JayMac Pharmaceuticals, LLC.
Nashville, TN (PRWEB) June 16, 2014
The national meeting of the American Academy of Nurse Practitioners is set to meet on June 17th, bringing together over 5,000 nurse practitioners in Nashville. There are many workshops on the topic of mental health and psychiatry, making it a prime time to showcase a new, natural option for depression: EnLyte.
The APA Guidelines for the Treatment of Major Depressive Disorder, The CAM APA Task Force Recommendations, and the STAR*D Study all point to the need for safer alternatives with a better side effect profile, and suggest folate supplementation as a viable choice. EnLyte meets this need, and is the most complete prescription folate therapy on the market today. It is garnering a substantial following among nurse practitioners nationwide. According to Jennifer Durward, APRN, PMHNP-BC, Northern Montana Health Care, "I have a patient in her early 40's who has suffered from PMDD, BPD, severe depression, never was able to have energy, and a long standing history of self-mutilating, and isolating in her home. She has tried numerous SSRIs, SNRIs, TCAs, mood stabilizers, and antipsychotics. I started her on EnLyte and this is the best she has ever felt. I am able to take her off some of her medications and give her a chance to feel happy and energized for once in her life."
Presenting EnLyte at the conference will be JayMac Pharmaceuticals CEO and EnLyte co-inventor, Towny Robinson, Christy McCain, National VP of Sales, Diane Pratt, Inside Sales Manager, and Andy Farah, MD, Chief of Psychiatry, UNC/HPRHS, and expert on folate therapy use in mental health.
EnLyte contains a proprietary triad of unique and reduced folates, plus all of the methylated b-vitamin cofactors needed to address conditions related to folate deficiency. To learn more, visit http://www.EnLyteRx.Com.