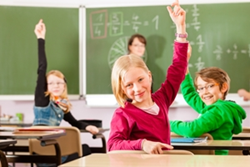 "By working with Lightning Labels, schools will be able to focus on mission-critical tasks while letting a professional take care of their label and sticker printing needs, said Julie Waldrop, Production Manager at Lightning Labels."
Denver, CO (PRWEB) June 17, 2014
With "back to school" season only a few months away, customized stickers can be an effective way for schools at all levels to prepare for the upcoming school year. Whether universities want to spread school spirit by affixing their logos to various items students and parents will purchase or if they use stickers to manage various assets, stickers are a must for educational institutions preparing for the new year.
Of course, schools aren't the only ones selling back to school merchandise. Other businesses, such as retail outlets, could also capitalize on this time period with limited-edition products designed specifically for students returning to school.
"Back to school season can be hectic for many organizations as they look to greet returning students and welcome new ones," said Julie Waldrop, Production Manager at Lightning Labels. "By working with a reliable and experienced label and sticker printing company such as Lightning Labels, schools will be able to focus on mission-critical tasks while letting a professional take care of their label and sticker printing needs."
School Stickers for Promotional Purposes
Students often have a tremendous amount of pride in the school they attend, particularly in regard to high school and college. School stickers can be attached to various products and sold to students to drive extra revenue while simultaneously promoting the school's brand.
Items such as bumper stickers are incredibly popular, particularly among parents, to boast to the world where their children goes to school. Stickers and labels can also be used elsewhere - on generic food product packaging and drink bottles, folders, binders, key chains, writing utensils, window stickers and much more. The only limit is the imagination of the school.
Moreover, labels and stickers can be crafted in all sorts of shapes and sizes with a variety of materials to improve durability and visibility. It doesn't matter if schools want to put a sticker on a product designed for rugged outdoor use or for a small pen - there is a sticker or label that can fit whatever needs universities have.
Custom School Labels Help Universities Get Organized
Aside from promotional purposes, custom school labels can be used for a broad number of internal, organizational functions.
The most common use of stickers in this way is for parking permits and passes. Schools can purchase sequentially numbered stickers for people who purchase parking passes, which can then be placed on vehicles in monitored parking zones. These stickers can be designed for easy, damage-free removal to ensure people don't have to worry about marking up their vehicle when they renew their permits.
Schools could also use numbered stickers for asset management. If they have limited quantities of expensive equipment, such as tablet devices or radio units, they can attach numbered stickers to them. Staff can then easily sign these devices in and out as they use them, promoting accountability for the use of equipment.
Back to school season is fast approaching. Whether organizations want to drive more revenue through promotional products or simply want to improve accountability, stickers and labels can be a vital asset in that regard. Lightning Labels offers low minimums and fast turnaround times, which is perfect for those who want to implement new marketing strategies quickly and cost effectively.
Lightning Labels is now offering 15 percent off new label orders through June 27, 2014, using promo code SUMMER14 at checkout. Does not apply to reorders. Maximum discount is $1,000. Free ground shipping applies to orders placed online only and shipped within the U.S. and Canada and cannot be combined with any other offers or promotion. Visit Lightning Labels.com for more information or updated promotions.
About Lightning Labels:
Lightning Labels uses state-of-the-art printing technology to provide affordable, full-color custom labels and custom stickers of all shapes and sizes. From small orders for individuals, to the bulk needs of big businesses, Lightning Labels is equipped to handle and fulfill custom label and sticker projects of all types. Best of all, like the name implies, Lightning Labels provides a quick turnaround to every customers' labeling needs. Uses for Lightning Labels' custom product labels and custom stickers include food packaging and organic food labels, wine and beverage labels, bath and body labels, and nutraceutical products, such as vitamins, essentials oils, and herbal remedies, as well as event stickers, adhesive window stickers and more. Lightning Labels strongly supports the development of environmentally friendly printing materials and carries EarthFirst PLA, a new kind of green label material made from corn instead of petroleum. While operating as a high-tech printer, Lighting Labels prides itself on its personalized customer service. Lightning Labels provides one stop shopping for all of your custom label needs. For more information and to place orders online, visit LightningLabels.com. For the latest in packaging news and labeling promotional offers, find Lightning Labels on Twitter (@LightningLabels), Facebook, Pinterest, Google + and LinkedIn.