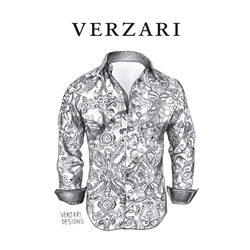 We then made it our mission at Verzari to make the BEST LOOKING and BEST FITTING shirts in the world and at price that just makes sense.
Houston, Texas (PRWEB) June 18, 2014
Verzari.com is comprised of a group of fashion forward designers who saw a need for high quality men's designer shirts but without the high price tag.
Walk into any upscale store like Nordstrom's or Saks and there is always a section for men's designer shirts with brand names like Robert Graham, Dolce & Gabbana and many others that easily charge hundreds of dollars for one shirt and in many cases, these designer shirts range from $400 to $500 each!
That is serious nosebleed territory. Antony Scallone one of Verzari's head designers says "We took a closer look at these shirts and came to the conclusion that they are not made out of gold but just very good designs and use fine fabrics. Being designers ourselves, we said we can do this even better and make it at a price point that is reasonable."
Mr. Scallone, continues to say, "We then made it our mission at Verzari to make the best looking and best fitting shirts in the world and at price that just makes sense."
This is how Verzari does it:
They design each shirt in house. These are one of a kind, beautiful designs that makes perfect use of vibrant colors and patterns.. Men who wear Verzari shirts definitely get noticed.
They source the finest fabrics from around the world. Many of these fabrics are exclusive to Verzari. These shirts not only look great but feel great.
Verzari then works closely with their expert tailors to literally handcraft each shirt using our precise designs and fabrics.
Finally, Verzari only sells directly online at Verzari.com at a fraction of the price you would expect to pay at a boutique shop or high end retailer.
To ensure quality, Verzari only make a limited quantity of each design. Nothing at Verzari is mass produced. They even use high grade stainless steel collar stays in every shirt as standard practice.
When asked how the public reception was to the online store opening, Mr. Scallone says, "Within the first week of opening our online store, Verzari.com, we sold out of half the inventory which was just amazing. I think people realize that each shirt is a limited run so once they are sold out then its gone for good."
For more information visit http://www.verzari.com.