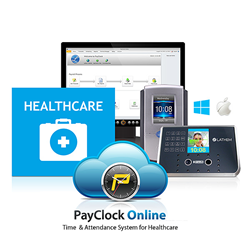 PayClock Online makes it very easy to manage employees in a satellite office. — Jason Dudley, practice manager
Atlanta, GA (PRWEB) July 08, 2014
Minnesota-based dental practice Pediatric & Adolescent Dentistry has simplified time and attendance with PayClock® Online, Lathem's cloud-based solution that enables businesses to manage time and attendance anytime, anywhere with an Internet connection. It has reduced time, stress and inefficiencies for practice manager Jason Dudley.
Dudley manages accounting, finance, HR, marketing, advertising and building maintenance for this practice that is dedicated to children's dental health. The company's 20th staff member just joined the team, which is split between two offices. Prior to using PayClock Online, Dudley had to spend unnecessary time traveling to and from both offices just to manage payroll.
Today, because PayClock Online is cloud-based, Dudley is able to manage payroll for the practice from either of the two offices, his home, or while he's traveling for work. Employees easily use the system by clocking in and out on a designated computer in each office. Working on children's teeth all day, some dental assistants don't have their own computers in the office, so Dudley set up PayClock Online so all employees can clock in and out from one central office computer.
PayClock Online also lets employees view their own time records from this one central computer without being able to edit the time entries. Allowing employees to view their time and attendance records in real-time eliminates confusion and errors at the end of each pay period.
"PayClock Online works very well for everyone," Dudley said. "It makes it very easy to manage employees in a satellite office. And it puts the responsibility on the employees to keep up with their hours worked. Employees like it because they can see their own time, print it out if they want, and compare it to their paycheck at the end of each pay period."
Prior to PayClock Online, employees were punching in and out on a mechanical time clock with paper time cards. This made it hard to verify correct hours worked, some employees would miss punching in at the start of the day, or they would punch in multiple times by mistake.
Consequently, at the end of each pay period, Dudley would find confusing or missing time records, and had to investigate two weeks' worth of time records for multiple employees.
Dudley said, "When they clock in, employees can immediately see a record of when they've clocked in and out. They sign a form that they've checked their time and everything's correct. And any problems can be fixed right away."
Lathem hosts PayClock Online on the web, so there's no software to install or network servers for Dudley to maintain, eliminating any additional support and IT burdens for the business. He likes the reporting features, which easily export to popular payroll applications like QuickBooks, ADP and Paychex.
PayClock Online has saved him time and stress, and as a result, he can focus on other office management responsibilities.
"We're a specialty office in the way we do things and the number of children we see as patients every day. PayClock Online works for us."
About PayClock Online
PayClock Online is a cloud-based solution that enables businesses to manage time and attendance anytime, anywhere with an Internet connection. This web-based employee timekeeping system allows managers to quickly process payroll on their own time, when it is most convenient for them. Mobile functionality lets managers track remote employees' hours or administer payroll from their own mobile devices. It's easy to set up employees to clock in and out from their computers, mobile devices, or Lathem time clocks, and enable them to view their own time records and PTO information on the Web without supervisor assistance. PayClock Online easily integrates with popular payroll software systems like QuickBooks.
About Lathem
Headquartered in Atlanta, Georgia, Lathem is the leading provider of durable and affordable timekeeping products for small business. Founded in 1919, Lathem remains a family-owned and operated US manufacturer. More than 1 million small businesses worldwide use a Lathem solution every day to help manage their business, including cloud-based time and attendance systems, wall clocks, and biometric and mechanical time clocks.
In celebration of their 95th anniversary, Lathem has launched a year-long sales event that makes it easier for small businesses to upgrade to the latest technology in employee time and attendance management to improve productivity and streamline the payroll process.