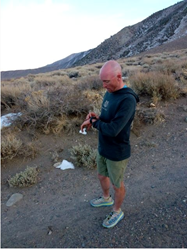 Tracking and saving data can help motivate and inspire athletes.
Cheyenne, Wyoming (PRWEB) June 16, 2014
OutdoorGearLab, a growing website known for its rugged tests of outdoor equipment, just released a new review of GPS watches for running and training. Included in this review were models from well respected brands such as Suunto and Garmin. In addition, the wrist-mounted GPS trackers were compared head-to-head with Strava, the smart phone app that is popular with athletes for its GPS capability. In interesting note is that most of these GPS watches were compatible with some type of social network, such as Nike+. This helps to motivate and inspire athletes, and can make owning a device like this even more important for some. During the course of this review, gear review editor Jediah Porter tackled his most ambitious training regimen to date, training for seventeen hours per week on average over the course of forty weeks. He used these watches to track his efforts while running, hiking, mountaineering, backcountry skiing, and even during intense rock carry workouts in alpine playgrounds all over the country, including Mammoth Lakes, California, Leadville, Colorado, and the Alaska Range. All the products were scored on the metrics of accuracy, durability, ease of use, ease of set-up, portability, and features. Awards were given to the top scorers in the categories of Editors' Choice (the best all-around) Best Buy (best value), and Top Pick, which is the best at a specific application.
Winners:
Editors' Choice Winner: Suunto Ambit 2S
Interestingly, the Suunto Ambit 2, which has more features than the 2S, including a barometric pressure sensor that communicates altitude and temperature data, did not win the top award. The Ambit 2S, even with slightly less battery life, won out over the Ambit 2 because its size is more conducive to being worn on the wrist, making it more comfortable and easy to use. The intuitive interface also allows a user to load data onto Sunto's MovesCount website. Jediah Porter states that most athletes won't miss the barometric sensor and instead will be satisfied with the features the 2S does have, which includes tracking speed, distance, time, laps, and overall performance. He found the Ambit 2S to be the ultimate, svelte training tool.
Best Buy Winner: Garmin Forerunner 100
Even smaller in size than the Suunto Ambit 2S, and just a bit more than half the cost, the Garmin Forerunner 110 is inexpensive, high performance, and just the right scale for a wrist-mounted accessory. The Forerunner is also the easiest device in Porter's test to set up initially – it doesn't require plugging into a computer first. It has all the features a serious runner is looking for, and it comes with the ability to store and analyze data on either the Garmin Connect website or through Garmin Training Center software. The data can also be exported as .gpx files and uploaded to strava.com if the user wishes to compare his or her performance against friends.
Top Pick Winner for Members of the Nike+ Community: Nike+ Sportwatch GPS
Part of the draw of the smartphone app Strava is that there is a prominent social component, allowing users to compare his or her performance against friends and strangers alike. The Sportwatch also comes with a strong community behind it. Especially for those already a part of the Nike+ community, or those who are interested in joining, the Sportwatch allows you to partake in the fun. Besides that, the interface is clean and simple, the features are tailored towards serious runners, and it comes in a small, affordable package. It also includes a foot pod which counts steps and reinforces the GPS location data for higher accuracy.
Porter's review is complemented with a buying guide to help customers with further questions about GPS watches. His guide explains the different types of watches on the market and what types of athletes need which features. He also explains the different methods through which each device can track and store data. Most brands have their own tailor made website but almost all devices can export .gpx files, which are compatible with multiple sites.
OutdoorGearLab, LLC is based in Cheyenne, Wyoming. The company's aims to solve purchasing decisions by creating the world's best outdoor gear reviews, using comparison as the secret sauce. The website, http://www.outdoorgearlab.com, is a free resource for enthusiasts and athletes who engage in activities such as hiking, backpacking, skiing, mountaineering, climbing, cycling, swimming, running, and camping. The test team performs rigorous side-by-side tests of gear in the real world, and writes up the results in clear and concise essays, illustrated with photos. Each product is scored across a range of weighted metrics, competing products are ranked, and awards are given to the highest scoring and top-performing models. This allows consumers to quickly and easily find the best possible product.