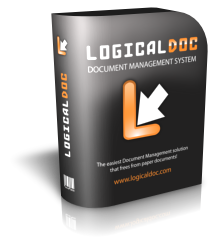 LogicalDOC can automatically synchronize all of the documents stored in the corporate shared folders and file servers. No other solution on the market can do that
New York, USA / Carpi, Italy (PRWEB) June 23, 2014
Logical Objects, the provider of document management solutions for large and medium sized enterprises, announces the availability of LogicalDOC 7.
This new release of LogicalDOC delivers important upgrades in the architecture of the system which will now be able to handle multi-tenants with a single instance, therefore bringing a new way to share infrastructure costs. With a multi-tenant architecture, LogicalDOC is designed to virtually partition its data and configuration and, thus, guarantees that each client organization works with a customized virtual application of their own.
The release of version 7 also offers a number of performance improvements and a better support for all modern browsers. Logical Objects is proud to announce the immediate availability of LogicalDOC 7 which represents a significant milestone in the evolution of our product. All of the engineers at LogicalDOC are committed to provide the best solution to satisfy any document management needs our clients may have.
"This new version goes far beyond a simple file storage system, because the LogicalDOC platform provides a full document management solution," says Marco Meschieri, Logical Objects' CEO. "But the distinguishing advantage that LogicalDOC offers is the software's ability to fit unobtrusively within a company's existing environment. For example, LogicalDOC can automatically import all of the documents stored in the corporate shared folders and file servers. From that point on any changes in those external resources can be synced back to the LogicalDOC repository without the need of human intervention. No other solution on the market can do that."
Key features of LogicalDOC include:

Import and synchronization: Select the folders to synchronize, and whenever a change is detected in the LogicalDOC repository or locally, updates are automatically triggered.
Collaboration and workflow: LogicalDOC supports collaborative content management, so automatic notifications can be configured and business processes can be visually developed in a user-friendly web workflow designer.
Offline access: External client tools allow LogicalDOC users to work offline and be automatically synchronized once they connect again to LogicalDOC.
Works on multiple operating systems: Compatible with Windows, Mac and Linux operating systems for the server installation and any browser on the user side.
Management of all types of local content from simple files to complex folder hierarchies generated by local applications.
Access control: Server-side access control policies are fully applied by LogicalDOC, maintaining data security at all levels.
LogicalDOC is available for immediate download from the LogicalDOC website, and on SourceForge for developers of the Open Source community edition. To learn more, register to schedule a one-on-one demonstration of our software.
About LogicalDOC
LogicalDOC is a modern document management platform. It features an intuitive interface which is easy to use and requires no training. The software uses advanced technology and widely-accepted international standards to facilitate a non-intrusive integration with any IT infrastructure. The LogicalDOC solution is designed to scale up in order to handle large deployments and extensive amount of documents. LogicalDOC is professionally supported by Logical Objects' engineers, ensuring a professional system configuration and fast response to customer's demands.
More information is available at http://www.logicaldoc.com.
Stefano Rigoni, Director of Public Relations
Logical Objects
+1 (800) 654 2827
http://www.logicaldoc.com