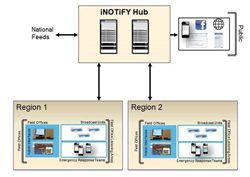 This effort will propel Environment Canada into next generation notification services. - Kathy Nuckles, CommPower President/CEO
Camarillo, California (PRWEB) June 18, 2014
CommPower was awarded a four-year contract with Environment Canada for the procurement, installation and operational support of CommPower's iNOTiFY alert/warning technology in support of Canada's Weatheradio program. When complete, this solution will utilize centralized Data Centers that continuously feed weather/warning broadcast information to Canada's nationwide grid of 213 Weatheradio transmitters and phone trees; as well as eventually provide voice alerts to local TV/radio stations, with the option to extend into personal opt-in public notification services.
"This effort will propel Environment Canada into next generation notification services," says Kathy Nuckles, CommPower President/CEO. "CommPower is thrilled to be Canada's partner in this effort."
CommPower's iNOTiFY system is a full service emergency management and response solution the roots of which come from an aggressive 5-year NOAA Weather Radio modernization effort, funded by the U.S. National Weather Service, with focus on nationwide geo-based, multi-channel weather/warning distribution services. "To be able to take a cutting edge notification solution built for a mega nation and then offer that same technology commercially to countries, jurisdictions and organizations of any size is an opportunity that doesn't come around often. This is a win-win for the entire emergency management community", says John Codeus, CommPower's Vice President for Applied Technology.
For Canada, the iNOTiFY system will receive text and audio formatted weather/warning messages prepared by meteorologists and authorized Government officials. Based on geo data contained therein, the system will automatically distribute the messages to the iNOTiFY broadcast assets, partners and systems that reside within the affected area(s). These iNOTiFY broadcast assets include full bilingual English and French Canadian text-to-speech hardware units (called ChatterBoxes) for Weatheradio transmission. Should Canada desire to extend into personal notification services such as social media, smart phone Apps, SMS and email, iNOTiFY can offer these services as well.